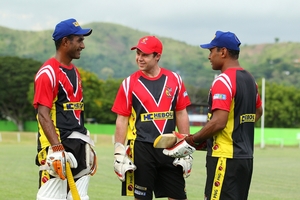 Papua New Guinea are poised to take the crown for 2014's most uplifting cricket story if their form continues at the International Cricket Council World Cup qualifying tournament in New Zealand.
Afghanistan - a country where it's claimed cricket is the second most important thing after peace - took the honour last year when they qualified directly for the World Cup.
On Monday, PNG chased 250 runs to beat Kenya with eight wickets and 7.1 overs to spare in New Plymouth. On Thursday, they rolled Uganda for 105 and took just 17 overs to win by nine wickets at the same venue. They play the Netherlands today. If PNG make the February 1 final, they're guaranteed a World Cup place.
Not bad for a country whose two main grounds in Port Moresby consisted of snake-infested long grass and cement wickets a couple of years ago. The Cricket PNG administration building in the middle was occupied by squatters and one oval was a boy-racer playground. Last year, father and son combination Barrie and Adam Cassidy released an illustrated book, An Ocean of Cricket, following the sport around the Pacific Islands; Ross Taylor wrote the foreword.
They recounted one PNG story where 400 people bashed each other with sticks and tree branches at the venue while staff barricaded themselves in the office. A subsequent moat around the ground prevented entry for the cars - a couple of jalopies took a dip in the withdrawal process - while threats, legal action and police involvement removed the squatters. The sport has reclaimed its safety and sanity.
The scene of the chaos, Amini Park, is now the best cricket facility in the South Pacific outside Australia and New Zealand. The grounds have been transformed to international standard, with turf wickets, a four-lane indoor practice facility and fully-equipped gym. Staffing levels have blossomed. Eight full-time staff used to man the Port Moresby office; now 70 full-time staff are based in six regions across the country.
ICC investment has enabled the development, combined with the efforts of former international players and a team whose athleticism is among the most potent in the world.
Last year's East Asia-Pacific World Twenty20 qualification tournament, held at Auckland's Waikaraka Park, was an example. PNG showed unmatched professionalism to win.
Coached by former Queensland and South Australian player Peter Anderson and mentored by former Australian test cap Andy Bichel, 'The Barramundi' combined ruthless fielding, batting flair and bowling guile to scythe through opposition. A highlight was their co-ordinated 11-man lbw appeals as loud as their red, black and yellow uniforms.
Support has been crucial. Former Australian cricketer Greg Campbell (Ricky Ponting's uncle) has played a pivotal role as the governing body's chief executive, just as countryman Bill Leane did before him. Former England wicketkeeper Geraint Jones is part of the current team, having lived his first six years in PNG where his parents were teachers.
A number of initiatives have been enacted. One, the Don't Drink and Drive Legends Bash, has been attended by a host of former internationals over the past four years, including New Zealanders Simon Doull and Scott Styris. Drunk driving is one of the country's biggest scourges. Players have also often gone into rural areas to promote the sport - 82 per cent of Papua New Guineans live outside the main centres and there are over 850 indigenous languages. One village, Hanuabada, with a population of 15,000, is the home of over half the current team.
Cricket PNG has also done well on the export front. Last year, 10 players were billeted in Melbourne and Canberra as part of a scholarship programme. No 3 batsman Assad Vala even joined the Brisbane Heat's wider squad for the Big Bash last summer. There's also an affinity with the West Indies, who were the first international team to tour PNG in 1975 as part of their tour to Australia.
Current ODI captain Dwayne Bravo has signed a deal to act as PNG's development mentor and ambassador which saw him visit schools, academies and rural communities in September during the anti-drink drive festival. He was flanked by fellow West Indians Kemar Roach and Richie Richardson. Twenty tonnes of sand were trucked in, a stand was constructed and the match was televised. Bravo even entertained punters with Bob Marley karaoke afterwards.
The other area PNG are strong is women's cricket. The 2011 ICC census counts PNG as having the third highest female participation rate of any ICC member, behind Australia and England but ahead of New Zealand.