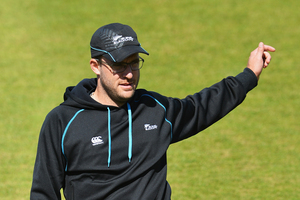 Dan Vettori's decision to stand aside from the West Indies tour is a smart move, on a couple of counts.
Firstly it is the right call on a personal level.
His lengthy recovery from an Achilles injury that simply wouldn't come right over the last 18 months means he's been a long time out of the international game.
Certainly his return for Northern Districts in the early stages of this domestic season has been encouraging.
In three HRV Cup T20s for ND and one Plunket Shield game against Auckland there have been positive signs.
Against Auckland he took six wickets in the match, conceding 95 runs off 49 overs, and scored 59 runs off 62 balls.
The bowling aspect of his game is, he feels, in good shape. But he's some way off being ready to get through five days of test cricket at optimum level.
And that's the nub of it. There's no point making himself available, then struggling to get through the match.
"My Achilles is feeling really good but every part of my body is reacting to being used again," he said.
"I don't want to come back, get injured and go through the roller coaster of being in and out of the team. I really want to be 100 percent fit and have a number of games under my belt before I feel I can put my hand up for selection."
Vettori is aware that the sight of him coming in and out of the national team, perhaps unable to perform at his best, would not be a good look, either for the team or himself. He has been an oustanding player so there's an understandable element of pride.
He has been among the world's premier spinners, and in recent years, allrounders. When he returns - as he should after more matchplay, including a stint in Australia's Big Bash League with the Brisbane Heat - Vettori wants to be ready.
There was a time when the overtaking of Richard Hadlee's New Zealand test record 431 wickets seemed simply a matter of time. Vettori has taken 359 wickets in 111 tests. It now seems some distance away. But if he needs an added incentive, it's there.
Second is the team aspect.
Vettori knows he needs to be a fully functioning, contributing member of the team, where there can be no hint of using it as part of his rehabilitation.
His ND team mate Ish Sodhi made an encouraging start to his international career in Bangladesh and is the frontrunner for the spinner's job when the first test squad to play the West Indies at Dunedin next week is named on Friday.
"It all feels just a bridge too far. That's the main reason," Vettori said of his decision.
He could be well across that bridge by the time India arrive for their high profile visit in the second half of January. Then there's the world T20 in Bangladesh, from mid-March.
Give it time, might be Vettori's motto. After all there's plenty of cricket ahead.