Australia's batting ineptitude sees hopes of a classic series against England disappear.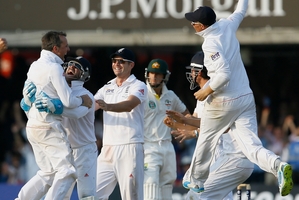 Cricket Germany has offered to replace England as Australia's opponents. "If you fancy a competitive game we are only an hour's flight from London," tweeted the Deutscher Cricket Bund, thus proving that Germans have a sense of humour after all and that Australia have exposed themselves to ridicule.
Overfed with drama for the past year, we thought this Ashes series would ignite another glorious summer. Trent Bridge tricked us. Lord's told the truth. However much the English want a 5-0 victory they would prefer a contest first.
Germany's offer cannot be taken up. Technically the urn is still up for grabs. All Australia need to do to turn this series around is to win the tests in Manchester, Durham and at The Oval with a group of batsmen who were 117 for nine at one stage at Trent Bridge and were removed for 128 and 235 at Lord's. They are surviving on 10th-wicket stands. All England need is a draw from those three fixtures to keep the little pot of dust.
The two tests so far have not lacked talking points, romance, controversy or classic Ashes snapshots, such as Ashton Agar's 98 at Nottingham and Joe Root's 180 and two major wickets here. The Decision Review System has kept us supplied with courtroom capers and Australia have appeared confused by all forms of technology, including the older kind, of bat and ball.
On the day of their impaling at the game's spiritual home, Cricket Australia was forced to issue a statement on behalf of David Warner - himself already in the doghouse - dissociating him from a rude tweet sent by his brother about Shane Watson, the opening batsman who extended his collection of false dawns by falling lbw to James Anderson for 20.
On the averages, and Australia's recent test record, England's superiority here is no great surprise.
At Trent Bridge, Darren Lehmann's team overachieved, creeping to within 14 runs of a famous victory after needing 80 to win with nine wickets down. It was always hard to imagine them improving much on that performance.
England, on the other hand, were bound to come on for the run. But nobody could have expected such a graphic illustration of Australian weaknesses, or for the series to expire so fast.
Few came to Lord's expecting a massacre. In most minds still were the long tussles of 2005 and 2009. Australia might not be much to look at but they had a new coach and a bit more bite. The long, hot summer was unfolding nicely. England's first innings brought another century for Ian Bell but no suggestion of a mismatch, even if England had been 28 for three before amassing 361.
On this batting pitch, Australia could expect a big score of their own. But then Watson fell to the last ball before lunch and wasted a review. Watson's selfishness in placing his own vain hope before the needs of his team seemed to detonate the Australian innings spiritually. Chris Rogers, Usman Khawaja, Michael Clarke and Steve Smith all went cheaply as they collapsed to 128 all out.
There are days in tests when teams are dismantled and destroyed before your eyes. It feels terminal, but seldom is. Over the long narrative of a series recoveries are possible, even likely. Yet not one of the great Australians working in the media here made a case for a revival. None said the batting would improve. Not a soul stepped up to argue that personnel changes could save this team.
Nathan Lyon for Agar, who made no impact with the ball, is one obvious alteration. There is, though, no phalanx of talented replacements, unless one counts the recently discarded or retired: Simon Katich, Phil Jaques, Michael Hussey or Ricky Ponting.
England have not needed to be especially good to reach this dominant position. Good in places, but not great across the board.
Australia, on the other hand, look bereft, not just now but for years to come.
The year that keeps on giving has decided to be less liberal with its gifts. One-sidedness has replaced gnawing tension. Only England's margin of victory in this series appears in doubt. At least now we know we can always call the Germans in and call it Der Ashes.
Batting woes
Australia's top 6, 1st two tests
Total: 544 runs
Average: 23.6
Australia's tail
Total: 347 runs
Average: 20.4