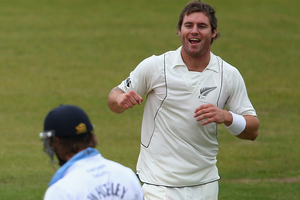 Bowling-starved Doug Bracewell is making the most of a rare run-out, but whether his efforts are enough to unseat Neil Wagner from the test team remains to be seen.
New Zealand's first warm-up match before the test series against England has become a personal duel between the two men competing for the third seamer spot at Lord's.
With ace pair Tim Southee and Trent Boult watching on at the County Ground in Derby, most interest at the bowling crease surrounds Bracewell's attempts to dislodge Wagner before the opening test begins on May 16.
The Central Districts quick has made good ground in the early battle but it would be no surprise for Wagner to win the war. The incumbent seized his opportunity when Bracewell cut his foot during the home summer, taking 12 wickets at 33 in the drawn series against England.
Having locked down a spot in the crowded seam bowling stocks for the first time since he switched allegiance, the South African-born Wagner will probably be given the chance to replicate his success against the same side at Lord's.
And, although Bracewell took 4-28 as New Zealand dismissed Derbyshire for 154 overnight (NZT), Wagner was equally effective in grabbing the first three wickets to fall before finishing with 3-33.
The pair should get another spell at the crease during tonight's third and final day - with the tourists leading by 334 at stumps on day two - and they could also feature in the four-day game against England A on Thursday, though Southee and Bolt will be in need of a tune-up.
Bracewell, for one, would be appreciative of as much time as he can get with the ball in hand, given the abbreviated nature of his summer. After stepping on a piece of broken glass five days before the first test against England, Bracewell missed the rest of the series.
With his recovery slower than anticipated, Bracewell was then limited to just 10 overs in a single Ford Trophy match - hardly ideal preparation for his first tour of England with the national team.
So it was no wonder the 22-year-old sounded more relieved than impressed with his personal performance on the second day in Derby.
"It's good to get out there and play some cricket," he said. "It's been awhile so it's been good getting out there and getting some overs under the belt."
Unfortunately for Bracewell, Wagner would have also been grateful to blow out some cobwebs. His performances in New Zealand prevented the possibility of Bracewell being reinstated once his foot recovered sufficiently - and history may be repeating.
"It was obviously disappointing to miss out on the third test but Neil was bowling pretty well," he said. "I was looking forward to that tour and I felt my form was pretty good going into the series. So I was gutted but the guys did well and played some competitive cricket."
New Zealand's seamers will have a significant say as to whether that competitiveness in matched in foreign environs, and the group is currently coming to grips with the Duke ball used in England.
But Bracewell was backing his peers to make the adjustment, and he even thought it may prove more advantageous than the Kookaburra with which the sides battled to a 0-0 series draw in March.
"[England] will be more used to it, but we've been bowling with it for about a month," he said. "They swing a little more and have a harder seam, so it's good for us - we've got a swing bowling unit. Hopefully we can use the conditions well and get used to that ball pretty quickly."