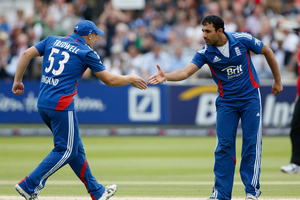 Ravi Bopara's recall to the England squad for the New Zealand one-day international series and the Champions Trophy comes as no surprise to those who played with him during the 2009-10 season at Auckland.
The Essex all-rounder received another international lifeline yesterday on his 28th birthday, despite not having played an ODI for England since September. He had not been selected in two previous limited overs squads to India and New Zealand.
Bopara edged out fellow all-rounders Samit Patel, Luke Wright and Rikki Clarke, despite his last four one-day international innings totalling 22 runs at home to South Africa. He has a career batting average of 30.62 in 83 ODIs and, prior to his South Africa slump, he scored 182 runs at 91 against Australia the same season.
Auckland teammates mirrored the theme it was "just reward for a top bloke''. Bopara's efforts to be available for the Plunket Shield in addition to the Twenty20 matches he was contracted for, endeared him to the province.
Former Auckland pace bowler Gareth Shaw said Bopara modelled everything he did on Sachin Tendulkar.
"He even used to mimic Tendulkar's two-strap pads. They were of the same special cloth covering rather than the usual glossy finish.
"I also remember he had a golden bowling arm. We'd toss him the ball and he come in with gentle medium pacers and take wickets.
"He was really particular with his bats, too. He must've gone through about 20 with us. Gunn and Moore were on red alert.''
Four of Bopara's England latest ODI teammates - James Anderson, Steve Finn, Jonathan Trott and Chris Woakes - have also spent time in the New Zealand domestic system outside England tours. National selector Geoff Miller explained Bopara's recall: "He's been given another opportunity because we know what he's capable of doing. He's got all the assets to his game.''
England have never won a major 50-over tournament. The three-time losing World Cup finalists were beaten by the West Indies at The Oval when they last hosted the Champions Trophy in 2004.
England squad for New Zealand one-day series and the ICC Champions Trophy: Alastair Cook (captain), James Anderson, Jonny Bairstow, Ian Bell, Ravi Bopara, Tim Bresnan, Stuart Broad, Jos Buttler, Steven Finn, Eoin Morgan, Joe Root, Graeme Swann, James Tredwell, Jonathan Trott, Chris Woakes. - additional reporting AFP