New Zealand seamer is fit again after foot injury and is eager to prove his worth on tour to England series.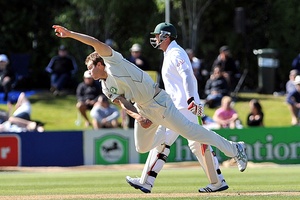 The national team landscape has changed for Doug Bracewell as he prepares for the tour to England.
The New Zealand seamer missed the three tests against England at home with a foot injury. Otago left-armer Neil Wagner came in and finished top wicket taker on either side with 12, as New Zealand fielded an unchanged XI through the drawn series.
So now Bracewell is on the outside looking in when he may have been in that XI and the player in possession of a spot. The two warm-up games before the first test now take on extra significance for him and batsman Martin Guptill, also ruled out by injury from the test series.
"It's changed a little bit," he said yesterday. "Obviously it's hard when you get an injury, and Guptill will be the same. You're out of the team, someone comes in and replaces you and they do quite well. It's a bit of motivation for me, and Guptill, to fight our way back into the team."
The opening tour games are against Derbyshire from May 4-6, and the England Lions at Leicester from May 9-12. That's the time players like Bracewell and Guptill have to make a statement. The only other games on the test leg of the trip are the tests at Lord's from May 16, and Leeds, starting on May 24.
Bracewell has not played a game since a Ford Trophy match against Canterbury in Christchurch on March 20.
So he's feeling fresh and ready to go. He's done some training, mainly strength and conditioning work, and practised with the English Duke balls, which will be used on the tour.
"It feels a bit different in the hand. They're supposed to swing a little more [than the Kookaburras used in New Zealand] and hopefully that is the case because it'll help us hugely."
Bracewell, who has taken 46 test wickets in 15 matches at 31 apiece, has been left out of the ODI squad for the Champions Trophy. To be fair, it's not his most productive discipline, but still the omission hurt, and he wants to get back to playing all three forms for the national side.
"The first priority for me is playing test matches but I want to be playing as much cricket as I can.
"It's a little bit frustrating to be left out. They [the selectors] will have their reasons and I'm sure we'll talk about that in the future. I am sure the guys who are there ahead of me deserve it, so all I can do is train hard and work on my bowling and get back there."
After an unscheduled break to repair his foot, Bracewell is fresh and highly motivated. "I am, mate, it's been a good little break but I can't wait to get over there."
The New Zealand squad, who fly to England on Monday, are spending time this week in separate camps, at Lincoln, Tauranga and Auckland.