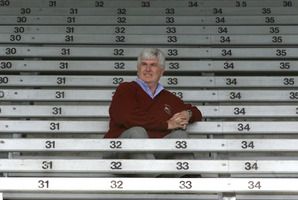 When former test cricketer John Parker launched his movement to get more ex-international involvement on the New Zealand Cricket board, he made what might now be viewed as a prophetic statement: "I'm the messenger and we all know what happens to them," he said with trademark dry humour. "But that's fine as long as we get a better result."
He may yet get a result. Even though legal proceedings have been threatened against him, Parker cannot be counted out. He already has a track record in changing matters at board level in New Zealand sport.
Parker and his lawyer John Wiltshire won places on the Waikato/Bay of Plenty Magic netball board late last year. Parker was an appointed member, while Wiltshire became chairman. The move coincided with the eventual departure of franchise chief executive Sheryl Dawson, despite the Magic becoming the first New Zealand franchise to win the ANZ Championship the previous season.
When the Herald on Sunday broke the news in October, netball insiders pointed to a strained relationship between the regions within the Magic partnership.
Netball Bay of Plenty - where Dawson was also chief executive - and Netball Waikato sometimes clashed and that was seen as a reason change was required. Parker (and particularly Wiltshire) were seen as powerful forces in effecting that change.
The legal action may place NZC chairman Chris Moller and other board incumbents in a stronger position for re-election but Parker-backed candidates should not be written off.
Brendon McCullum's threat of defamation proceedings against Parker for authoring the 77-bullet point document entitled "The Taylor Affair" has changed the landscape of this episode of cricket politics.
The document discussed the Ross Taylor captaincy demotion saga and the McCullum legal team has not ruled out launching subsequent action against anyone who consequently published, forwarded or broadcast the material.
Unless an 11th hour retraction and public apology is issued, the New Zealand captain is expected to sue over what he contends are unfounded allegations. Papers are set to be filed with the Hamilton High Court tomorrow.
McCullum is paying for the case and is not seeking monetary damages. On Friday, he said in a statement: "I simply want his [Parker's] acknowledgment that the claims he makes are completely false." New Zealand coach Mike Hesson has also instructed lawyers to threaten legal action.
The Herald on Sunday has failed in its attempts to contact Parker and Wiltshire, also Parker's business partner in the sports consultancy company SMT Group since 1997. Parker's phone message indicates he is in the Middle East for 10 days. One source suggested Wiltshire, a former first-class cricket captain, may have been helping a family member deal with poor health.
Parker's movement is frustrated by a lack of former internationals on the board. They are working through the major associations to drive change.
Last month, Parker outlined what he'd like to see among board appointments: "We want people with specific skills, rather than generalists. There's no doubt the incumbents are enthusiastic cricket people but we want at least two members to be ex-internationals with a leadership and governance background. They will understand the inner workings of New Zealand teams and how to best plan itineraries ... what happened with Ross Taylor's captaincy and the subsequent fall-out cannot be allowed to occur again."
In light of the legal threat, Parker's board representation ambitions might seem fanciful. Compounding that is the fact that as many as possible of the more than 20 names on Parker's email list were contacted and given the opportunity to respond.
Almost to a person they either did not return calls, did not want to be named, claimed to be part of the email chain but didn't have input into the report, or had unsuccessfully requested to be removed from future correspondence.
Former New Zealand cricketers Ian Smith, Mark Greatbatch and John Morrison are among the few to be openly involved.
From a major association perspective, Otago chief executive Ross Dykes says the defamation proceedings should not make much difference to Parker's goal.
"New Zealand Cricket decided more than a year ago to enter a process on how to revamp and update the constitution on how the board is elected. That was already in process when John's movement emerged.
"From the conversations I've had [with John], the two groups are not too far apart. NZC would certainly like international playing experience on the board but that can't be at the expense of expertise in the amateur game either. You don't want to appoint former players on the board for that reason alone. I think this situation has been blown out of proportion by the Taylor-McCullum captaincy issue. Coming from Otago, I'm close to Brendon [McCullum] and Mike [Hesson] and in my experience they are honourable and have total integrity."