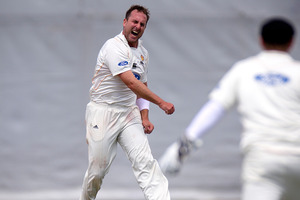 I have been sleeping well for the past few weeks after hearing of Mark Raymond Gillespie's inclusion in the test squad to tour England in May.
I've been a cheerleader for the Rongorongo Express ever since I saw him bowling live against Australia at Eden Park a few years back.
That day he displayed all the hallmarks of a great young bowler in the making. Bowling with Shane Bond, he surprised the Australian batsmen with his pace and bounce. He kept it simple. He used his ample buttock (a vital asset for any fast bowler) to run in hard and bowl into the wicket.
He didn't bother trying to swing the ball. His strength was his great motor - and with his rugged good looks and steadfast demeanour he was set to become cricket's answer to SBW.
I saw the future that warm summer's day. As a fully paid up member of the New Zealand Cricket Tragics' Society, my childhood dream of a two-pronged pace attack was finally about to be realised. In my fantasy, Bond would take the new ball, softening up the openers with his disconcerting in-swing at lightning pace, and then his unassuming partner in crime, Gillespie, would bustle in from the other end, providing deliveries that look like they should swing but don't - conning the batsmen into playing the wrong line and nicking them out.
They would be our Garner and Holding, our Lillee and Thomson, our Wasim and Waqar. Our fast bowling future suddenly looked bright.
But then, tragically, my cricketing dream of New Zealand becoming the next West Indies was ended as quickly as it had begun as Bond and Gillespie were struck down by injury.
Suddenly, I felt as if there was nothing to live for.
It's a time in my life I prefer not to look back on. I still feel the hurt. But it's time to tell all. It embarrasses me to admit I took to necking myriad prescription drugs as a means of dealing with the hole that the loss of this opening bowling combination left in my cricketing heart.
I got so low I started taking herbal remedies - known for doing absolutely nothing - just to fill the bottomless hole of my grief. Relationships ended. I pushed loved ones away. Essentially, my inability to deal with the loss of Bond and Gillespie turned me into a depressed, heinous monster.
Luckily for the people close to me, Gillespie (no relation to ZM's Polly Gillespie) made a comeback last year and with his return my hunger for self-annihilation subsided.
His reintroduction to the test unit was greeted with immediate success, as he took the top off the South African first innings at Seddon Park - returning figures of five for 59. Later that series at the Basin he was on fire as well as he bustled to six for 113.
His wickets come in clumps. He bowls with heart. Apparently he sometimes bowls with pain. His post wicket celebrations are subdued - he prefers to simply jog toward the keeper with his index finger in the air.
In just five tests, Gillespie has taken three five-wicket bags and one four-wicket bag for a total haul of 22 wickets at 28.86 a piece.
With Boult, Southee, Bracewell, Wagner and the Rongorongo Express, my lifelong dream of New Zealand becoming the new West Indies is still alive.