Touring squads for England announced with Gillespie an interesting choice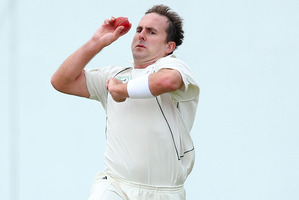 It would be a huge stretch to call it a gasp of exasperation; maybe more a quiet exhalation, but New Zealand coach Mike Hesson yesterday briefly let his guard slip over the ongoing off-field drama surrounding his team.
Having revealed New Zealand's test and Champions Trophy squads to go to England next month, Hesson, who is also one of two national selectors, along with Kim Littlejohn, was asked if he was "sick of it".
'It' being the captaincy brouhaha which simply won't go away - most recently courtesy of the so-called Parker group's allegations surrounding the reasons Ross Taylor was dumped as captain late last year in favour of Brendon McCullum.
Hesson has tended to keep his eye firmly on the ball when the topic has been raised. Yesterday he stepped off the reservation, briefly.
"We're trying to focus on cricket," he said. "It does challenge our focus at times, no doubt about that."
How does he shrug it off and get on with his job?
"I guess you prioritise your priorities and mine is the Black Caps."
While the conference was to discuss the teams selected, as one reporter put it to Hesson, there was "an elephant in this room".
"I don't like to involve myself in cricket politics," Hesson said.
"My focus is very much on the team and we've been challenged to keep that focus but mine is about preparing the Black Caps for England."
The test squad was largely predictable - the XI who played all three drawn tests against England, plus the recovering Martin Guptill as the seventh batsman, veteran Mark Gillespie and Doug Bracewell the fourth and fifth seamers and Tom Latham, very much the coming man, who adds wicketkeeping backup.
Gillespie is the interesting selection. The feisty seamer, outbowled by Neil Wagner in what amounted to a head-to-head trial at Queenstown against England before the first test, has form for taking good wickets, was equal top wicket-taker in this year's Plunket Shield with 45, but injury and foibles of selection panels have restricted him to just five tests, producing 22 wickets.
In his latest comeback, against South Africa last summer, he took five and six wickets in an innings in consecutive tests.
"He's certainly a very skilful bowler," Hesson said. "His skill set certainly suits English conditions."
Unlucky? Ian Butler clearly missed out to Gillespie, having been in the test 13 from Dunedin to Auckland last month.
The 50-over squad is heavy with returnees, from Dan Vettori back for his 17th year of international cricket, to left arm seamer Mitchell McClenaghan, getting over a side strain picked up after a hugely encouraging couple of months to start his top flight career.
Wellington's former Australian limited-overs wicketkeeper Luke Ronchi gets his chance, and is set to open with Guptill in the ODIs and Champions Trophy.
He has usurped BJ Watling in the 50-over side, Watling suffering for ordinary ODI form against England.
"We're after a bit of power in the one-dayers. Martin Guptill is back and provides a bit and we want some at the other end. Luke scores at a high strike rate, and has the ability to score off both feet."
And Hesson put to bed any suggestions the troubled Taylor's place was in jeopardy, not through talent, more how he was coping within the set-up which rejected him as leader earlier in the season.
By his own admission he battled with that aspect during the England tour.
"Ross is an integral part of the side. It's been clearly stated by both Ross and myself that our relationship is a work in progress and I'm certainly keen to keep working with that."
NZ squads
Tests: Brendon McCullum (c), Peter Fulton, Hamish Rutherford, Kane Williamson, Ross Taylor, Dean Brownlie, Martin Guptill, Tom Latham, BJ Watling, Doug Bracewell, Bruce Martin, Tim Southee, Trent Boult, Neil Wagner, Mark Gillespie.
ODI/Champions Trophy: McCullum (c), Guptill, Luke Ronchi, Williamson, Taylor, Grant Elliott, James Franklin, Colin Munro, Dan Vettori, Nathan McCullum, Andrew Ellis, Southee, Kyle Mills, Boult, Mitch McClenaghan.
Schedule
May 4-6: NZ v Derbyshire
May 9-12: NZ v England Lions at Leicester
May 16-20: First test, Lord's
May 24-8: Second test, Leeds
ODIs
May 31: Lord's
June 2: Southampton
June 5: Nottingham
Champions Trophy
June 9: v Sri Lanka, Cardiff
June 12: v Australia, Edgbaston
June 16: v England, Cardiff