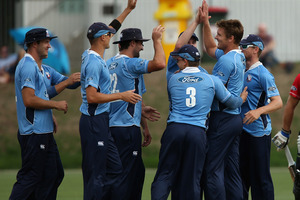 The national one-day title had only been in Auckland's hands a few minutes when captain Gareth Hopkins was thinking ahead to next summer.
The three-wicket win over Canterbury was Auckland's fourth limited-overs title in the last five seasons, a mix of two T20 HRV Cup crowns (2010-11, 2011-12) and two Ford Trophies (2010-11 and this season).
Their prowess at the shorter forms isn't in doubt, but when it comes to first-class cricket it has been a different story.
Auckland won the Plunket Shield in the 2008-09 season, but since then it has been a lean period, and does raise the issue of whether it is possible, given a restriction of 14 contracted players per major association, for one team to win all three titles, which require a range of different skills.
"I know a few of the guys are pretty desperate. We've been disappointing in that (competition) for a number of years. That's the big one for us," Hopkins said.
Not to take away from the shorter forms in which this season Auckland were demonstrably the best side, the only one to win five games in the truncated eight-round format.
Their batting has been outstanding, highlighted by scoring eight of the 20 centuries in the competition.
Yesterday, their bowlers stood tall, trimming Canterbury to 139 in just 34.5 overs. The seamers did their job impressively, Canterbury were guilty of some poor shot selection, and the Auckland fielding was top drawer.
Both Colin Munro and Colin de Grandhomme took dazzling catches, while Anaru Kitchen's running out of tailender Matt Henry provided a snappy finishing touch.
Auckland's penchant for fast scoring stayed with them to the end of the competition and the job was done in 25.1 overs, with Hopkins on 34, hitting the winning runs.
"It's nice to do it in a final, but that's my job, to be there at the end. The boys won it in the field, and with the ball. I thought 139 was never in doubt," he said.
Canterbury were disappointed not to have turned in a strong display on the big stage, but scrapped to the end, left armer Ryan McCone and captain Andrew Ellis keeping the flame burning with a succession of wickets, as Auckland lost their way briefly late on.
"When there were 10 to get (and six wickets down) I thought we had a sniff, but they were a tad too close," Ellis said.
"We definitely feel deflated. Hindsight is a great thing, but what would have happened if we had another 40."
Seven of the 10 top runmakers in the competition came from the finalists; six of the 10 leading wicket takers are from the same teams.
They were worthy finalists. One team played particularly well, the other were left to rue a lost opportunity.