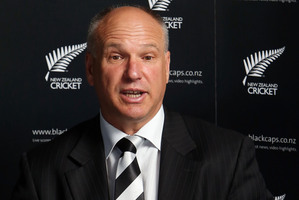 It may have been one of New Zealand cricket's most outstanding weeks in the test match arena but off the field, it left a great deal to be desired, thanks to the performance of chief executive David White.
As the Black Caps battled to within an inch (or at the very least a bail's width) of a stunning victory over England at Eden Park, White appeared to throw petrol on the flames of his obviously still simmering stoush with former captain Ross Taylor, who was sacked from the role last year in what was obviously a massive blow to his confidence.
Taylor indicated in an interview after the nail-biting third test of the series that he was "still not comfortable", saying: "There's a lot of things that have happened. Over the next couple of weeks or months things might get told but, right now, it's probably not a great time to talk about it."
White hit back quickly, ignoring the first rule of good PR (breathe through your nose for 30 minutes before responding) with: "I was very surprised and disappointed that Ross would come out with those comments the day after a magnificent test and series when we have done so well."
Pardon me?
Wasn't Taylor unceremoniously dumped from the captaincy the day after his match-winning 147 against Sri Lanka in one of the most ineptly-handled pieces of cricket administration for a long time?
In an unfortunate choice of words, White is now quoted as saying every effort had been made to "rehabilitate" Taylor following his sacking.
My trusty dictionary has the meaning of rehabilitate as "restore to effectiveness or normal life by training etc, especially after imprisonment or illness".
I certainly don't feel Taylor has done anything this summer that would require sanction from a bumbling board or executive. On the contrary, he has acted with restraint and dignity.
None of this should reflect on the new captain, who appears to bring his own enormous pride and passion to the role.
All and all, it was a very good week for the Black Caps and the game in New Zealand with one exception.
Perhaps the powers-that-be can now formulate a more mature approach to the inflatables and other instruments (musical or otherwise) which can be brought into Eden Park.
The current scenario of having a trumpet talent quest outside the gates to qualify for admission just isn't cricket.