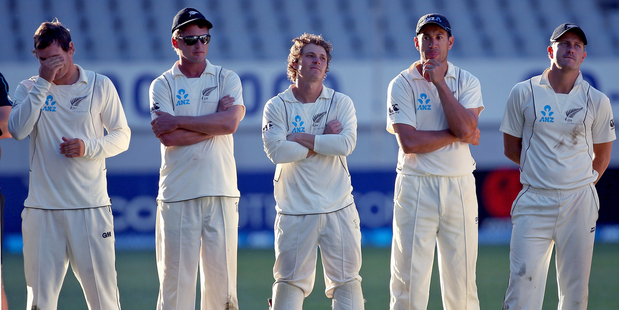 Congratulations to the Black Caps for ... well, for not losing. If ever you wanted evidence that this country lacks a certain oomph, then the reaction to this week's test series draw with England is all the proof you need.
Jaws were clenched and nails bitten as the country was held spellbound by the most dramatic game of cricket played anywhere for a long time.
And when the team managed to turn a certain win into an odds-confounding draw, the public responded as though this was the greatest sporting feat since the Greek messenger Pheidippides accidentally ran the first marathon.
Equally naturally, there was relief that the tawdry soap opera of the captaincy debacle and associated fall-out from behind the scenes had not completely thrown the players off their game.
And this being cricket, the record-keeping obsessives were ready the moment the last ball was bowled to find relatively minor landmarks of cricket history in the previous few days' play and divert attention from the result.
This was only the fourth time in test history, a talkback caller breathlessly informed the nation, that a team had managed to play out the entire last day of a match after losing four wickets the day before.
Admittedly, that team was England, but at least it was in a match we were in, too.
It's not great to be so far ahead you can't lose and then stumble at the last minute. You can look at it as tragedy, and you can look at it as farce, but you can't look at it as a model for how things should play out. But we do, in so many areas.
The response to the draw reflects our deep-seated fear of success. We think we want to succeed but really we'd rather not.
Success breeds the expectation of success, meaning you have something to live up to. Life is much less stressful if you believe that near enough is good enough.
You can congratulate yourself on your effort without having to deliver anything more. This is why so many people who do want to get ahead get out of the country, and also why a million or so New Zealanders are contributing to the success of other nations.
Once we stop giving ourselves prizes for not turning up at all - and insist on doing not just the best we can but on doing better than the other guys - we may make the most of this country's still barely tapped potential.
Iwon't miss blink-and-you-missed-him TVNZ news head Ross Dagan, who has returned to Australia.
Anyone who can say, as he did, that his changes to TV One's 7pm slot were criticised because "people have an entrenched view of what they think TV news and current affairs should be" obviously does not understand that his job is to serve the interests of his audience - whether he agrees with their view of what news and current affairs should be or not.
The Auckland Arts Festival is over and a grand time was had by all. Regrettably, among the many performances that make up such an event, those of the critics are often overlooked.
There is, in fact, much entertainment to be had in watching them try to outdo each other in ever more pretentious scribblings.
Here, too, the standard was high this year, but one phrase did leap off the page at me and raise the bar for feather-headed fatuity. A reviewer wrote that the performance under review dealt with "the depressing omnipresence of gravity".
Personally, gravity has never depressed me. I celebrate its omnipresence. I like the way it makes my coffee stay in its cup, stops my children floating into space and keeps this planet revolving around the sun.