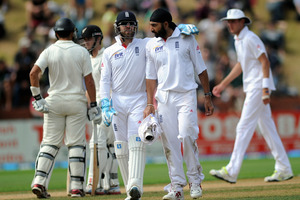 Okay, I get it now.
The Black Caps' riveting final test of the summer against the English suddenly made it abundantly clear why test cricket evokes such romanticism from the purists.
Up until now the charms of test cricket had largely been lost on me. There has been the odd match that has sustained my interest - Hobart in 2011 springs to mind - but whether it is because of New Zealand's appalling test record, or Gen Y's poor attention span, I've otherwise been pretty much indifferent to the long form of the game.
Tuesday's thrilling conclusion to the third test changed all that.
Through that tense final session you couldn't help but develop an appreciation of the game's nuances.
The constant field changes as Brendon McCullum tried to outwit the batsmen, the bowlers using every trick in their arsenal as they searched for a way to grab those crucial wickets, even Stuart Broad's defiant 61-ball stretch without scoring a run was positively gripping.
Then, after five long days of cricket, it all hinged on the very last ball of the very last over.
For those who claim it was a non-result, that the outcome meant nought, obviously didn't see the reactions of the respective teams after Matt Prior calmly blocked the final ball bowled by Trent Boult.
The Black Caps, having been so close to ending an incredibly difficult summer with a historic test win over the mother country, were devastated. The English meanwhile celebrated demonstrably - hanging on for a draw was very much a victory for the visitors.
I haven't seen such jubilant celebration over a draw since Ricki Herbert virtually cartwheeled his way down the sidelines after drawing with Italy at the 2010 Fifa World Cup.
Not all matches come to such absorbing conclusions as what unfolded at Eden Park on Tuesday, they only really happen once in a blue moon. But that is what makes it all the more special.
There's no doubt in the short-term the result will hurt badly for the Black Caps, but when the dust settles this could well be seen as a breakthrough moment for New Zealand cricket.
Their performance over the past week, and the test series as a whole, looks to have galvanised a team that was in absolute disarray just a few months ago - a situation stemming from the messy handling of Ross Taylor's demotion.
With talk of player cliques forming, the series had the potential for the team environment to become highly toxic had McCullum not been able to bring them together as one.
What happens next though, is vital. The flood of positivity the New Zealand side are currently experiencing from the public will soon be forgotten if they cannot continue their development away from home in their return tour to England in May.