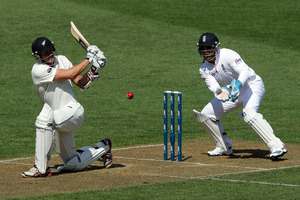 Former New Zealand wicketkeeper Ian Smith perhaps described his job best with the title of his autobiography: Just A Drummer In The Band. Seldom do glovemen get sufficient plaudits for crouching behind the stumps for hundreds of balls a day, waiting for five and a half ounces of leather to slam into their palms.
Yesterday was an opportunity to celebrate the 'cult of the keeper' - with England's Matt Prior morphing from drummer into lead singer, marching to his own beat. He completed five dismissals in a test innings for the fifth time, leading the way in the field to bring the visitors back into the match. He gave away just four byes after a slight glitch in concentration when the second delivery with the new ball bounced in front of him on the first evening. Gifting runs from one out of 915 deliveries is a sound return.
In addition, Prior is a go-to man for captain Alastair Cook. He's consulted in decision-making, offers plenty of chat to buoy spirit and takes off at Mo Farah pace between overs.
He has 196 dismissals from 65 tests, behind Alan Knott, Alec Stewart and Godfrey Evans on the England all-time list. Not even Stewart can trump Prior's batting average of 43.72.
Prior's respect within the team was instrumental in aiding Kevin Pietersen's return to the team after his Twitter shenanigans during last year's South Africa series.
However, it was Prior's skills with the gloves that came to the fore at Eden Park. He produced one of the summer's most spectacular catches. Peter Fulton helped a Steve Finn delivery on its way down the legside, only for Prior to leap high to his left, snaffle the catch and tumble.
He went from that extreme to keeping up to Jonathan Trott against Brendon McCullum. McCullum struggled, trying to cut and pull with too little width before Prior's gloves seized a faint edge when he drove at Trott.
Prior's input was acknowledged by Finn who benefited three times from his team-mate's handiwork on the way to equalling his test best figures in an innings of six for 125.
"It's nice to know he can leap like a salmon down the leg side," Finn said. "He's arguably the best [test] wicketkeeper/batsman in the world so to have him behind the stumps is exceptional. He provides the energy in the field, he buzzes through and it's great feeding off him.
"He makes sure we're formulating plans and bowling to them. He's integral to us as a team."