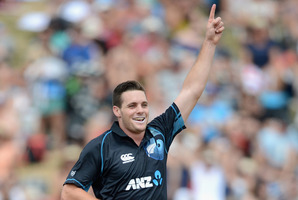 Doug Bracewell's foot is struggling to heal, Daniel Vettori's Achilles tendon and adductor injuries are ready for match-testing, Mitchell McClenaghan's side strain should be right for the tour of England, Martin Guptill's thumb is healing and Jesse Ryder is expected to remain out of international cricket indefinitely.
New Zealand cricket's absent talent is still missing as the domestic and international season draws to a close.
Bracewell's lack of footwear cleaning up after a party may cost him a place in the third test team. The wound in his arch is one thing, but every time he plants his back foot in his bowling action it jars, hindering the repair of skin and tissue. He apparently lasted only a matter of minutes in his most recent fitness test. A decision on Bracewell's immediate future could depend on whether more penetrative bowlers are required for the final test in Auckland. After England's batting during the second test, he may earn a reprieve.
Vettori's situation is more upbeat. He has been training with Northern Districts and could play their last, potentially crucial, Ford Trophy match with a semifinal place at stake.
Vettori has been active in the nets since early February but can now run freely in the outfield.
If recent operations on his adductor muscles work in sync with his Achilles tendon, he will play the early part of the Indian Premier League before moving to the tests against England. First he needs to return to form and be viewed as a better option than incumbent Bruce Martin.
Presumably Vettori could also make himself available for June's Champions Trophy in England, as he did for the World T20 in Sri Lanka, despite retiring from the 50-over format after the 2011 World Cup. The post-tour English T20 season might be a realistic option too, if he looks to reap further financial benefit from the twilight of a 16-year international career.
McClenaghan has made a promising recovery from his side strain in the England one-day series. He is back to full, pain-free exercise doing cross-training in the gym. He expects to begin bowling and completing cricket drills again this week.
New Zealand coach Mike Hesson and captain Brendon McCullum have kept in contact since McClenaghan broke down in the final one-day international against England. He's in their England tour and Champions Trophy plans - McCullum's quote at the end of the ODI series left that in no doubt: "Mitch has been a revelation for us, he has allowed us to attack in areas where we probably hadn't had that luxury in recent times. It's incredibly disappointing for him but gives him an opportunity to rest and make sure he's fresh for our next assignment."
McClenaghan also has plans to sign a temporary county contract - he's hopeful of sourcing a manager to help him - as well as add a test cap to his limited overs appearances. Ryder is unlikely to commit to the England tour. At present his form has dimmed - Six Ford Trophy appearances for 149 runs at 29.80 with a top score of 72 - but he is lucky enough to be branded with a "class is permanent" tag. Still, it would be hard to find him a spot in the test order with Martin Guptill already waiting once he recovers from his thumb operation.
Ryder instead will complete the full IPL with the Delhi Daredevils after being picked on a one-year contract for US$260,000 ($314,000) last month. He won't be accompanied, as he was a year ago, when his support crew helped him deal with personal issues that have since kept him out of all internationals.