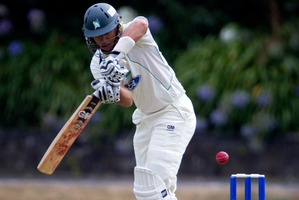 This is the summer to be a batsman in New Zealand domestic cricket.
Bowlers are suffering as a combination of factors have the batsmen cashing in.
The dry summer has left the outfields fast, pitches have been flat, particularly during the 50-over Ford Trophy, but there's more to it than that.
A change to the fielding restrictions in the one-dayers - captains have lost one boundary-riding option, down from five to four - has opened up extra space; the missile launchers batsmen now use, plus the no fear factor, have altered the way batsmen approach the game.
Sixty-two centuries were scored in the Plunket Shield - led by Auckland's Colin Munro's unbeaten 269 against Wellington - versus 50 a year ago.
In 2000-01, there were 39 hundreds; 34 in 2004-05.
The average run aggregate in the 30 games was 1048, compared with 888 last summer.
In the Ford Trophy, with 10 games remaining, matches are averaging 541 runs, as against 358 over the entire 2011-12 campaign.
Auckland lead the Ford Trophy, have scored the most centuries in the competition, seven out of 18, big partnerships are being run up, none more so than openers Jamie How and Jeet Raval's 321 for Central Districts against Northern Districts in Hamilton.
"Obviously having four outfielders has a huge influence on the ability of batsmen to generate scoring opportunities, and there's no fear," said Auckland's interim coach Matt Horne.
"Using two new balls means they stay harder for longer and consistently guys are hitting the ball more cleanly."
The former test batsman has seen the development of bats to the stage where they can do major damage, even in the hands of the less-skilled operators.
"The sweet spots are bigger and certainly players are hitting the ball further. They feel confident they can clear the inner ring."
T20 cricket, and the situations it has led to batsmen being put in, have given them more confidence in what is attainable.
It was not so long ago that getting 80 off the last nine overs with five wickets standing would be seen as a tough assignment. Now, by switching into T20 mode, it is noticeably less of an obstacle.
There have been individual seasons to savour.
In 1986-87, Martin Crowe, then with Central Districts, hit a provincial record 1348 runs at an average of 106.
His brother, Jeff, enjoyed an Indian summer five years later for Auckland, while the individual effort perhaps best remembered was 1988-89 when former England batsman Graeme Hick spent the season with Northern Districts. He clobbered 1228 runs at 94.46 in an eight-round campaign.
Who'd fancy being a bowler right now. They must feel they're standing at the wrong end of a shooting gallery.