McCullum put England in to bat, believing the Basin Reserve pitch won't break up later in the cricket test. But it's been a hard slog for New Zealand as the ball didn't swing and centuries came swiftly for Trott and Compton.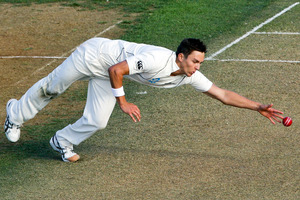 New Zealand know this territory well; they are pushing uphill to stay in a test well before the halfway mark.
They'll start the second day of the second ANZ international series test at the Basin Reserve with England at 267 for two and in charge.
To a point, it is of their own doing. Brendon McCullum, getting a name for himself as a lucky tosser - having won three of his four coin flips since taking charge in South Africa - chose to field and by early afternoon the die was cast.
Live scoring of day two begins at 10.30am
Scoreboard
Of the previous two toss wins, at Cape Town it went badly wrong for McCullum, as South Africa chewed New Zealand up for 45; but in Dunedin last week, his team had dominance from the start but were undone by a mortician's slab of a pitch.
To be fair, England's captain, Alastair Cook, was evidently going to do likewise, if he'd had the choice. If so, call this a terrific toss to lose.
Hindsight can make fools of us all, but McCullum's argument that the pitch will not break up late in the test - therefore better to try and do the business with the ball from the start - received solid support from his lead seamer, Tim Southee.
"It had a tinge of green and the wickets don't tend to break up. I don't think come day five it's going to be too bad to bat on," he said.
New Zealand's problem yesterday was that the ball simply didn't swing, until a couple late in the day.
Southee and Trent Boult in particular need the ball dipping about and once Nick Compton and Jonathan Trott settled in it was pretty plain sailing through most of the day.
They figured out that with a modicum of care, big runs were there for the taking. The pair did their job so comfortably that the statistically inclined types had scribbled down the second wicket record for England against New Zealand, 369 by John Edrich and Ken Barrington, at Leeds 48 years ago, as being under threat.
Compton got his second consecutive century, Trott his ninth and there was barely a nervy moment between them in their 210-run stand.
They had a race to the century, Trott getting there first with a vigorous pull off Neil Wagner; Compton followed in the hard-charging left armer's next over with a super drive through extra cover.
Arms aloft in delight, Trott must see this game as a doddle after his grind through India before Christmas on his debut trip as he sought to make his bones in the team.
Trott is England's glue. He goes about his business in an unfussy way, and was especially effective to the on side. His century took his test average past 50 in his 40th test and he resumes on 121, off 234 balls.
New Zealand simply didn't threaten enough. It became a job of perseverance, of sitting tight and waiting, and hoping. No chances went down; it was just a tough slog.
Cook's early dismissal did lift the spirits, but it was to be another 63 overs before they could smile again, Bruce Martin having taken Compton at slip off a loose drive.
Southee beat the bat occasionally, Wagner was energetic but with Boult they produced five above-the-head wides, trying to tempt a miscued hook. Spinner Martin was tidy until the batsmen seemed to cotton on to his game later in the day.
If Southee and McCullum's belief is borne out, and with rain anticipated, New Zealand's batsmen should not unduly fear what lies ahead.