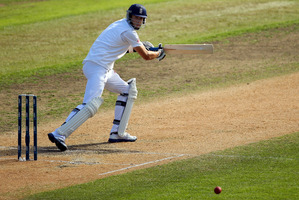 New Zealand Cricket groundstaff are under no specific orders to doctor pitches for the test series against England.
After the University Oval strip died in the second half of the first test, outspoken former England batting great Geoff Boycott described it as the sort of pitch that "will kill test cricket. You could play for 10 days and not get a result".
But lest that be interpreted as the first step in a policy to draw the sting from England's top class new ball bowlers Jimmy Anderson and speedster Steven Finn on the faster-paced pitches of the Basin Reserve and Eden Park, it's not.
New Zealand Cricket general manager of grounds and facilities, Ian McKendry, denied there were any instructions from team management for pitches to be deadened.
"It's up to the groundsman to come up with the best possible cricket pitch he can," McKendry said.
"All the turf managers around New Zealand have been around a while and are experienced. They know the conditions, environment, clay and soil they work with, so NZC doesn't go out and try to dictate to them 'we want a certain type of pitch'."
McKendry said given New Zealand's range of clays - from faster-paced Patumahoe used at Eden Park and the Basin Reserve, to the Kakanui of University Oval and Waikari of Hamilton and Christchurch - it is not practical to try and replicate the same characteristics throughout the country. Distinctly different climates from north to south see to that.
Basin Reserve groundsman Brett Sipthorpe has suggested his pitch for the second ANZ international test starting tomorrow won't bear comparison to the lively strip used in the South African test last season.
He expects it to be more akin to the drawn test against India in 2010. There was certainly assistance for the seamers in that match, as New Zealand had India 200 for six only to let them slip away late in the innings, then got rolled themselves for 167.
Having a uniformity of conditions isn't desirable, in any case. If a cricketer's skills are to be tested to the full, you want a range of surfaces for them to show their talents.
Remember New Zealand's seven-run win in Hobart on the green baize at Bellerive Oval late in 2011? There was no complaint from Australian skipper Michael Clarke afterwards as the seamers took 36 of the 40 wickets.
"I love seeing a result in test cricket," Clarke said. "I'm not going to complain about the pitch. We both had to play on it, and we got outplayed."