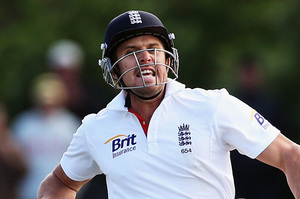 England opener Nick Compton will eventually enjoy grinding out a maiden test century as his side fought back on day four of its test against New Zealand in Dunedin.
But, shortly after stumps, all the 29-year-old right-hander felt was relief. England reached 234 for one and trail New Zealand by 59 runs with a day to play.
Compton, grandson of England legend Denis Compton, and captain Alastair Cook combined in an England record opening stand against New Zealand of 231. Cook nicked out to the second new ball with a couple of overs remaining. But Compton is undefeated on 102.
"It is the biggest relief of my life to be honest," Compton said. "To get to this moment was something special and I never thought, perhaps a year ago or a couple of months ago, that I'd be sitting here right now with a hundred. It is a strange feeling."
No one would have felt the pressure of England's first innings capitulation for 167 more keenly than Compton. He is still feeling his way at international level and the only member of the starting XI whose position in the side was under threat leading into the test.
In the opinion of some notable observers, including former England captain Mike Atherton, 22-year-old Joe Root was a better option at the top of the order. That would free up a spot for the exciting Jonny Bairstow at No6.
But Compton put an end to that kind of talk for now with his stoic innings. And his partnership with Cook is the pair's third century stand in 10 innings. It is hard to argue with that.
"I was well aware of that (talk). Joe is a fantastic talent and has played brilliantly over the last year. You just know instinctively, you don't need to read the press or what have you to know what you need to do. I felt like this innings was very important and I needed to pull something out. It was great that I could."
Root and Bairstow might be the future but right now Compton is doing a fantastic job and he helped restore some pride for the touring side after a couple of tough days.