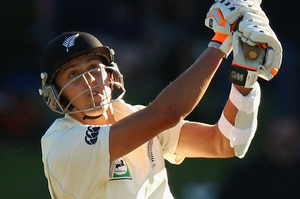 The English batting turnstile of the first innings suddenly turned into a security-patrolled barricade in the second at University Oval.
New Zealand's bowlers scythed through them on the second day but steady bowling yesterday was fruitless until Alastair Cook edged Trent Boult to BJ Watling with 2.1 overs of the day remaining.
Boult looked exhausted ambling into the media conference. He charged through 19 overs for tidy figures of one for 34 but chilly conditions and a flattening pitch were not conducive to eking out wickets.
Cook and Nick Compton, a right hand-left hand combination with a penchant for regular singles won the fourth day's battle of attrition. The New Zealanders struggled to apply pressure in a constantly adjusting field.
"It was frustrating not to grab a few more wickets but they were tough conditions," Boult said. "We could not produce any swing or get much seam assistance.
It was testing.
"The left-right combination was pretty annoying at first but I don't think any of us struggled to get our lines right. Tomorrow's a big day. I still believe if we go out and do similar things, we could put ourselves in a position to win."
After 80 fruitless overs, the English bats started to look wide. It took until the fifth over with the second new ball to break through
"They played it simple and left the ball well. The new ball's still crucial in the morning," Boult said. "I thought we built pressure in periods but let them off. They were going at a relatively slow scoring rate. We just thought we had to build pressure to dismiss them.
"We're in a good position ... well, we were this morning. It's frustrating at the moment but there's plenty to look forward to on the final day."
Compton reflected on the application by himself and Cook.
"I felt a little bit like the first test in India when we had a poor first innings and then Alastair and I had a rearguard action in the second. We needed to show the same sort of character here."
He believes they've almost dodged defeat.
"It's a case of 'right, we got away with that one guys but we're going to have to turn on for the next game'. It's been a bit of a kick up the proverbial."