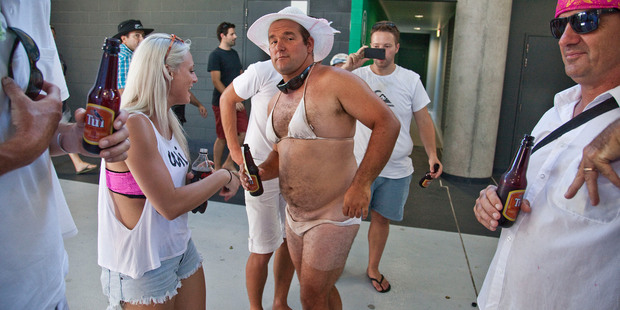 The 87 people biffed out of Eden Park during last weekend's cricket one-dayer against England were in good company.
The producer of the film that won an Oscar for Best Animated Short Film was escorted from the Dolby Theatre during the Oscars ceremony on Monday for having the temerity to throw paper planes from her seat on the mezzanine floor.
I haven't seen the film Paperman, but apparently paper planes are central to the plot and it was in homage that Kristina Reed flew the planes as the director gave his acceptance speech.
After remonstrating with the security guards, who'd marched her from the theatre, Reed was allowed back in after a stern talking to.
The 87 loyal cricket spectators weren't given a second chance.
I reckon the fact they were at Eden Park at all, forking out actual cash for their tickets and the overpriced food and drink, all to watch this team NOT perform warrants them a medal for services to sport, not eviction.
Nobody was arrested, nobody was charged, so clearly none of the 87 people was breaking the law.
One man dressed in a pink rabbit suit was biffed out on his fluffy oversized ear for trying to start a Mexican wave; others were shown the door for turning their cardboard 4 and 6 signs into paper planes and throwing them round the stands.
Let's face it - they had to use the signs for something. They couldn't use them to celebrate anything the Black Caps had done.
If the ground's management don't want paper planes, perhaps Sally Ridge could be hired to hold little sheltered handicraft workshops around Eden Park, showing fans how to make lampshades or picture frames out of the signs.
I used to love going to live sports events and the fans were a big part of what would make or break a game. The energy, fun and colour a good fan base brings to an event is priceless. Just think back to the Tongan and Irish supporters during the Rugby World Cup.
It only seems to be Eden Park that employs fun police - the rest of the grounds around the country report a great atmosphere.
We'd better pray that Auckland doesn't ever wrangle the Sevens tournament off Wellington. If management employed the same pursed-lipped attitude to spectators at the Sevens as they did last weekend, there'd be nobody left in the stadium before the first game was over.