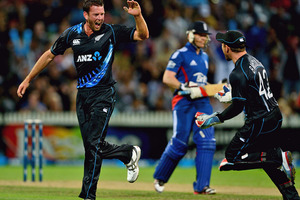 So T20 is a game loaded in favour of the batsmen, right?
Go out, merrily slog away, and send the bowlers packing with unflattering figures.
Well no, actually, and the bowlers are finding ways to even the playing field. Take the second game of the ANZ international series in Hamilton on Tuesday night.
When New Zealand batted, they made a flying start, through their openers Martin Guptill and Hamish Rutherford who put on 75 in 8.2 overs.
Progress stalled for a time, until captain Brendon McCullum got New Zealand to what proved an uncatchable position with his 74 off 38 balls. But along the way, England allrounder Luke Wright turned in a clever spell of medium pace bowling, which showed up one of the important elements of the shortest game for the bowlers. In the 12 balls which comprised the first half of each of his four overs, Wright took two for 13.
By getting ahead of the batsmen early in each over, he managed to squeeze the batsmen into taking risks. His figures were two for 24 from his four overs, a top-class return.
Were New Zealand taking note? The quartet of Trent Boult, Mitchell McClenaghan, Ian Butler and James Franklin all followed Wright's lead, in their own distinctive ways, and England's batsmen got in a deep hole early and couldn't find the stepladder.
Butler, on his return after two years out of the national team, was superb. Time and again he had batsmen flailing outside off stump, and by varying his pace and mixing his length he kept the batsmen guessing. The result was two for six from his 12 deliveries, as part of a fine two for nine from four overs.
Franklin, operating towards the end of the innings when England were sinking rapidly, took three for 11 off the 12-ball count, while new-ball men Trent Boult (none for 18 off his 12), and Mitchell McClenaghan (one for 13) did their bit too.
They, and Wright, showed the importance for the bowlers of getting their noses in front early in the over, keeping the brain ticking, and watching the batsmen look for big shots they might not otherwise have attempted had the over begun well for them.
Call it games within games, and the better bowlers are learning fast.
- nzherald.co.nz will have live updates of the deciding T20 in Wellington from 6.45pm.