McClenaghan and Munro did enough in South Africa to impress.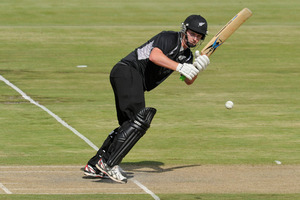 Of the debutants chosen to tour South Africa, Mitchell McClenaghan and Colin Munro earned the tag "worthy of perseverance".
While fellow newcomers Jimmy Neesham, Corey Anderson and Derek de Boorder either failed to find form, got injured or lacked game time, the two Howick Pakuranga clubmen showed enough promise to suggest they could become regulars, especially in the limited overs genre.
It was hard sustaining any consistency during the team's yo-yo-ing form in South Africa which saw them win one T20, get dismissed for 45 in the first test then secure an inaugural one-day series away. McClenaghan and Munro found some starch which saw both retained for the T20s and ODIs against England.
McClenaghan is a man familiar with cricketing hardship. He moved from Auckland to Central Districts in 2007 after battling to get beyond the Howick-Pakuranga second XI. His first-class debut was nothing special against Otago, producing match figures of one for 112 from 24 overs.
The same summer Stephen Fleming took him apart for Wellington in McClenaghan's list A debut. He limped away with none for 55 from five overs. He showed signs of class in 2008-09 but then suffered a medical ward full of injuries - a fractured pelvis, hip surgeries and a snapped ankle ligament.
However, McClenaghan has toiled hard. His background as a competitive swimmer (where he learned the work ethic of getting up early to follow the black line of a pool lane) has paid dividends.
He returned to Auckland, got fit enough to bowl in excess of 140km/h, cut the sugar and boosted the vegetables in his diet, took eight for 23 to erase Otago for 63 last season and sought advice from past test players Dion Nash, Andre Adams and Kerry Walmsley.
Cue an international call-up. Speaking after training this week, McClenaghan is in awe of his life taking such a horseshoe turn.
"It's so good," he chuckles. "I caught up with my mentor Kerry Walmsley the other day and was telling him the wonders of turning up to training and being excited just to run around freely."
McClenaghan has been given a mandate by captain Brendon McCullum to run in and bowl with pace and a freedom; a few errors can be tolerated.
"Brendon is the ultimate optimist. He is an incredibly positive character, which has given me confidence like during the last one-dayer where I was getting hit but got a breakthrough wicket. I'd gone for a bit of tap and I said, 'Mate I can do this'. He looked at me and said, 'Okay, you're doing it'.
McClenaghan took two for 70 off 10 overs. He says the highlight of the South African tour was watching Dale Steyn: "He was so measured. His plans mean he bowls within himself. He swings the new ball to nick out wickets and has a tremendous game awareness. When his team needs him, he can step up and take a wicket with more gas.
"Sometimes you won't take wickets but as long as the energy is there and the team lifts as a result, then it might help someone pull off a run out or catch in the field."
McClenaghan's aim is to play tests. He believes New Zealand need to avoid a mindset where just one or two left-armers are used. Trent Boult and Neil Wagner have the edge on McClenaghan for now.
"Why not three left-armers?" McClenaghan laughs. "Pick your best bowlers; I am probably not there just yet but, given an opportunity, I'm going to be ready. For instance, Trent swings the ball prodigiously and I'm more of a bounce bowler but it seems to work reasonably well for Mitchell Johnson and Mitchell Starc when they play together for Australia."
McClenaghan and bowling coach Shane Bond already have a couple of key matters in common. They both made international debuts aged 26 and suffered similar sustained injuries which would have medical staff thumbing vigorously through Gray's Anatomy.
"Shane's approachable but we haven't had massive discussions re tests, despite doing a lot of red ball work in South Africa. I know I have ability to take wickets in patches."
FOR MUNRO, cricketing success came more naturally than McClenaghan. He arrived at Howick-Pakuranga as a gifted batsman, useful bowler but lethargic trainer who would rely on talent rather than practice to get by. He has since dedicated himself to his craft and the benefits are showing. Munro has worked closely with New Zealand trainer Chris Donaldson and learned a few secrets to keep himself fit and healthy. "There were a couple of dietary things," Munro says with a grin. "Basically stay away from the carbohydrates if you're not playing or having a light day. I also found it hard when going away with Auckland for four-day matches and eating out at restaurants all the time. It was Indian, Thai, rice and naan ... then I'd get a couple of treats on the way home like an ice cream or a chocolate bar.
"Now I try to stay with the healthy guys and avoid the sweets. It's taken some practice, but I'm getting the hang of it."
Munro is in the rarefied air of being an incumbent in all formats. His accelerated strike rate made him a force on occasion in the T20 and one-day middle order in South Africa.
His improved fitness means he can also bat time - his most recent three innings for Auckland were 269 not out, 59 and 118. Munro averages 53.47 in 17 first-class matches but struggled in his test debut against the world's best bowling attack.
He's grateful for his continued endorsement by McCullum: "I didn't take my test opportunity so I'm not sure what the future holds there but Brendon's been ultra-positive, which gives you confidence. He keeps telling me to play my natural game and take it to the bowlers. The day it comes off, I've got to take it by the scruff of the neck."
Munro says his bowling at international level remains a work-in-progress. "An injury in pre-season probably dampened my impact. I'm working on that with CD [Donaldson] so I can hopefully sustain more pace, I'm never going to be express but swinging the ball around the 125km/h mark asks questions - that's my aim."