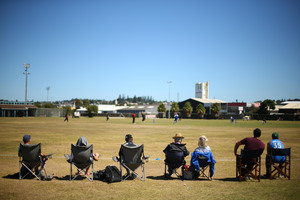 Amid the industrial backblocks of Onehunga and within the stone walls of Waikaraka Park, a considerable cricket bounty was up for grabs last week - the equivalent of the Ashes urn was at stake for the best first XIs from the International Cricket Council's associate and affiliate members of East Asia and the Pacific.
Papua New Guinea, Vanuatu, Japan, Samoa, Fiji, Indonesia and the Cook Islands produced a kaleidoscope of walloping batting, tidy bowling and - PNG excepted - appalling fielding to decide which of the seven nations would attend the global qualification tournament later this year in Dubai to challenge for spots at next year's World T20 in Bangladesh.
PNG quickly showed a level of professionalism unmatched by the rest and went on to win the tournament. Coached by former Queensland and South Australian player Peter Anderson and mentored by former Australian test cap Andy Bichel, 'The Barramundi' were ruthless fielders in their immaculate uniforms, baggy black, red and yellow caps and co-ordinated 11-man LBW appeals.
Fijian No 3 Greg Browne found out all about that fielding prowess. A single was pushed to point, where fieldsman Charles Amini threw down the one stump he had to aim at. Browne exited without facing a ball. Most other batsmen in the three simultaneous matches (PNG vs Fiji, Samoa vs Indonesia and Japan vs the Cook Islands) were not as threatened in dashing for quick singles or hitting catches.
Any weekend warrior who has suffered a case of butterfingers, harbour-bridge or stick-the-hoof-out-on-the-boundary would have blended in perfectly - cussing included. Still, it looked loads of fun.
A crowd verging on a couple of hundred was pepper-potted around the three ovals, having a rollicking time. A mix of reggae, R'n'B and even gangnam-style beats pervaded the arena with a strong emphasis on percussion.
Samoa, Fiji and the Cook Islands tended to get the most support. The Samoa-Indonesia match provided a batting highlight. Samoan captain and Auckland Cricket development co-ordinator Ben Mailata was joined by Sean Cotter for a second wicket partnership of 211. Both batsmen gave the ball a bruising on their way to centuries. Samoa trounced Indonesia by 175 runs.
Most team wagon wheels lurched legside and there was never a reluctance to swing the bat - good for maintaining interest. Shouldering arms was anathema.
PNG's Asad Vala - in the Brisbane Heat's squad for the Big Bash - was a key example. He showed extraordinary form against Indonesia with an unbeaten innings of 157 off 64 balls as PNG amassed 267 for two. They dismissed Indonesia for just 70. It was a reflection of PNG's recent development.
PNG's Amini Park in Port Moresby is the best cricket facility in Oceania outside of Australia and New Zealand. It has international standard grounds with turf wickets, a six-lane indoor practice facility and fully-equipped gym. PNG are even scheduled to play matches against Auckland and Northern Districts A sides at the end of this tournament.
Japan was probably the team which displayed the most guile and subtlety. What they lacked in brute force, they made up through the finesse of late cuts and flight of the ball.
Off spinner Naotsune Miyaji showed promise in the latter art, enticing a wicket in the opening over as he controlled the ball so it was not dispatched to the stone wall perimeter or on to Neilson St.
The 20-year-old Fijian right-arm medium Tukana Tavo also had a raw, natural action which yielded regular wickets. He had to leave the military to get selected because New Zealand immigration won't let anyone through customs who has links to Commodore Frank Bainimarama's regime.
Once the picnic rug was folded, the thermos emptied and binoculars stowed, there was no doubt cricket is better off for spreading the game in such a manner, even if it's not under lights at Eden Park.