Canterbury left-hander shows return to form with his 64 off 38 balls in NZ XI victory against England.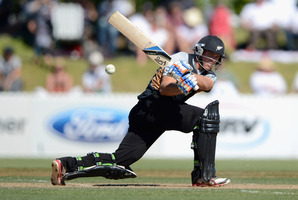 Tom Latham lost his way in the national limited-overs team late last year, but yesterday set about showing it may not be long before he's back.
The Canterbury left-hander's spanking 64 off 38 balls carried the New Zealand XI to a thrilling last-ball victory over England at sun-baked Cobham Oval yesterday.
The three-wicket win, secured by seamer Matt Henry putting Jade Dernbach's final delivery over mid-off to the fence when the scores were tied, meant the mini-series was squared 1-all.
The result also nicely sets up the T20 series, starting at Eden Park on Saturday.
Captain Andrew Ellis had his words of 24 hours earlier - along the lines of asking his players to back themselves and be bolder - ring true.
England, sent in, made 170 for five. The hosts had the chase in hand for most of the reply. They held their nerve through a late stumble - three wickets toppling in seven balls - to get the job done, albeit with nothing to spare.
"Any win against an international team, there's a lot of satisfaction involved," Ellis said last night. "It's more the fact that we asked a bit of the guys, to step up and show a bit more intensity and we got that and some more.
"It bodes well for the strength of character of some of these lads."
Latham was the perfect example of what these two games in Whangarei were all about for the New Zealand team, a chance to consider national contenders for the future.
Latham got a taste of international cricket last summer, but stumbled in Sri Lanka in early November. By his own admission he hasn't had a good season, but showed his talents yesterday.
His sweeping of the spinners in particular was highly effective - reasoning with infallible logic that it was going well early so he'd persevere with it - although getting out in the penultimate over wasn't part of the plan.
"It was my responsibility to see it through with only nine runs to get. It was very disappointing to get out.
"I feel I'm starting to time the ball better and my movements were getting me into the right place."
Openers Anton Devcich and Hamish Rutherford got the innings off to the required smart start; then Latham made sure it wasn't to be a wasted opportunity.
England will feel they've got good value out of the Whangarei stop. They know Eion Morgan and Jos Buttler are in strong form, the pair racking up quick 50s yesterday, after 48 and 57 not out respectively in Tuesday's win. Their bowling was a mixed bag, and captain Stuart Broad is clearly a key figure. His impressive three for 24 backed up a hat-trick on Tuesday.
"Having Broady back and dusting off a few cobwebs, setting fields and thinking T20 has done him a lot of good going into Auckland," opener Michael Lumb, also in the runs on both days, said. "Getting back into the hustle and bustle of T20 does take a bit of time. I think it was very productive."