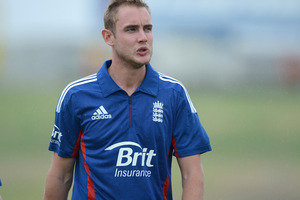 A hat trick by captain Stuart Broad, as part of four wickets in four balls, helped England to a comfortable 46-run win over a New Zealand XI in their T20 game at Cobham Oval today.
Having hit 186 for three, with major contributions from Jos Buttler (57 not out off 24 balls), Eion Morgan (48 not out off 32 balls) and Luke Wright (44 off 32 balls), England were in good shape.
The New Zealand XI were going well for a time, and Colin Munro's bracing 55 off 32 balls gave them some hope of catching England.
However Munro's departure at 136 to the final ball of the 18th over precipitated a dramatic collapse as Andrew Ellis, Ian Butler and Matt Henry departed to the next three balls from Broad without another run added.
The skipper finished with three for 22 off his four overs, with Chris Woakes getting three for 27 and Jade Dernbach three for 24.
The teams meet again at the same venue tomorrow.
England v New Zealand XI
T20
(Whangarei)
England
M. Lumb c Devcich b Butler 25
A. Hales c Beard b Henry 2
L. Wright st Ronchi b Beard 44
E. Morgan not out 48
J. Buttler not out 57
Extras (6lb, 3w, 1nb) 10
Total (for 3 wkts, 20 overs) 186
Fall: 25 (Hales), 48 (Lumb), 109 (Wright).
Bowling: M. Henry 4-0-28-1, M. Bates 4-0-39-0 (1nb), A. Ellis 4-0-37-0 (1w), N. Beard 4-0-33-1 (2w), I Butler 4-0-43-1.
New Zealand XI
H. Rutherford c Lumb b Woakes 9
A. Devcich c Morgan b Woakes 5
T. Latham run out 22
N. Broom b Dernbach 23
C. Munro b Dernbach 55
L. Ronchi c Dernbach b Woakes 12
A. Ellis c Bairstow b Broad 8
I. Butler c Hales b Broad 0
M. Henry c Buttler b Broad 0
M. Bates c Buttler b Dernbach 3
N. Beard not out 1
Extras (1w, 1lb) 2
Total (19.5 overs) 140
Fall: 6 (Devcich), 17 (Rutherford), 45 (Latham), 73 (Broom), 109 (Ronchi), 136 (Munro), 136 (Ellis), 136 (Butler), 136 (Henry),
Bowling: S. Broad 4-1-22-3, C Woakes 4-0-27-3 (1w), J. Dernbach, 3.5-0-24-3, L. Wright 3-0-30-0, S. Patel 1-0-4-0, J. Tredwell 4-0-32-0.
Result: England won by 46 runs.