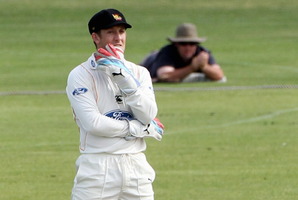 Luke Ronchi stands a decent chance of becoming the answer to a tricky trivia question one day - who was the first person to play international cricket for both Australia and New Zealand?
Of course, he hasn't yet achieved the feat, but the 31-year-old seems destined to play for the country of his birth on top of the four one-day and three Twenty20 internationals he played for Australia in 2008 and 2009.
After waiting out a four-year stand-down period, on January 13 he became eligible to play for New Zealand.
He will take a step closer when he plays for the New Zealand XI against England in two T20 matches starting in Whangarei on Monday.
He will go straight from Wellington to Whangarei after playing in their first three days of his side's ongoing Plunket Shield match against Canterbury at the Basin Reserve.
The New Zealand XI is an interesting collection of fringe internationals, former Black Caps, useful first-class players and the returning Ross Taylor.
Ronchi wasn't named in New Zealand's one-day or T20 squads yesterday to meet England but said next week's games were a chance to remind the selectors of what he can do.
"It's a chance to put my name out there. I think for everyone who's involved, that's what it is and the majority of us haven't had the opportunity to play for any New Zealand team or New Zealand A so it's a good chance to try and showcase yourself against a very good cricket team," Ronchi said.
"Whoever is playing is going to do their best to show they're capable of playing for the Black Caps."
Just where Ronchi would fit in to the national side remains to be seen.
He bats at a rapid pace but Brendon McCullum still wants to keep wicket in the short forms of the game and BJ Watling was impressive during the recent tour to South Africa as a wicketkeeper-batsman.
Ronchi is regarded as the best gloveman in the country and his batting numbers stack up well.
Prior to the game against Canterbury, he had scored 494 runs in the Plunket Shield at an average of 61.75 with three centuries and he had also pouched 26 catches behind the stumps.
In the HRV Cup he wasn't as prolific with 160 runs in 10 innings but his glovework was sharp with a competition-best four stumpings.
He made his debut for Wellington at the end of last season after cutting ties with Western Australia and announced himself on the New Zealand domestic scene with a rapid knock of 111 from 91 balls in a rain-affected four-day game.
Ronchi, who was born in Dannevirke, had clear reasons for returning to New Zealand.
"I didn't want to regret not trying once I finished playing cricket," he said. "If it doesn't happen, it doesn't happen but you'd always be regretting that you should have just tried it."
APNZ
- APNZ