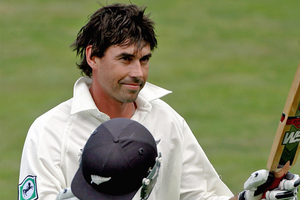 Shane Warne has unveiled his plan for the future of Australian cricket and it includes former Black Caps captain Stephen Fleming.
The former Australian spin bowler has written on shanewarne.com that there needs to be urgent action.
Warne, who earlier this week said on Twitter that Cricket Australia's (CA's) selection policy had become a joke, has also called for a new-look selection panel.
He proposes that Fleming replace Mickey Arthur as Australia's coach and Darren Lehmann be appointed his assistant coach.
Fleming, who retired from international cricket in 2008, has had a successful stint as coach of the Chennai Super Kings in the Indian Premier League with the side capturing back-to-back titles in 2010 and 2011.
The side also won the 2011 Champions League Twenty20 title.
Warne wrote Fleming brings a lot to the table.
"In my time Stephen was the best opposition Captain we played against and seeing what Stephen has done first hand re his coaching roles along with knowing him well personally, I believe he brings alot to the table, a calmness, an intelligent understanding of the game and a very good cricket brain," Warne said
"He's a good communicator too as well as a good leader of men."
Despite Warne's recommendation it would seem unlikely to see Fleming coaching Australia anytime soon. Arthur has been contracted through to the end of the next World Cup in 2015.
Since the South African took charge at the end of 2011, Australia have won 10 of 15 tests, losing just two, and sit third in the test rankings. However they have struggled in shorter versions of the game winning just 13 of their last 30 50-over matches and are ranked seventh in Twenty20s.
Amongst the other changes, Warne suggests former skipper Mark Taylor should be the new CEO and Rod Marsh, Glenn McGrath, Mark Waugh and Damian Martyn should join Michael Clarke as selectors.
"As an emotional, passionate and Australian cricket team supporter (and player) for the best part of 20 years (a proud one too) I, like many others am frustrated on many levels at present,'' Warne said on shanewarne.com.
"If we do nothing now, we will be where we were 30 years ago. There needs to be urgent action and a new strategy/plan put in place.
"The current set up is not working, as the results are showing!''
- Newstalk ZB/nzherald.co.nz/AAP