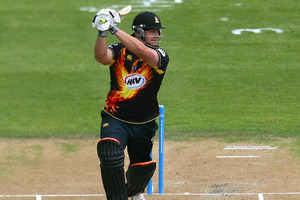 You have to say the tour of South Africa was a success.
The Black Caps were expected to be annihilated by South Africa. In fact, they won three of their eight games and the final match could have gone either way; it was the sort of loss you can accept.
Key players had memorable performances, new players showed enough to suggest there is an element of depth emerging. Two games were won from losing positions and over the course of the ODI series, some pressure moments were won convincingly.
I won't let you say "but South Africa were resting and rotating" either because, if you hadn't noticed, the Black Caps were without Ross Taylor, Jesse Ryder and Tim Southee. As we all know, no New Zealand cricket team can be expected to fare well without its best players.
No, this was undeniably a good tour. When we entered the contest, South Africa were the best team in world cricket in all three forms, our team were eighth in tests, eighth in Twenty20s and ninth in ODIs. Regardless of the captaincy kerfuffle leading in to this series, we had every right to expect a tour whitewash.
We won a series, for goodness sake, and in the version of the game we were meant to be the worst at.
What's more, performance in ODI cricket has publicly been stated as the form New Zealand Cricket most want success in. Based on that, New Zealand Cricket should be cock-a-hoop with what has happened.
So why then do I feel as if my tongue is firmly in my cheek? Most likely because the results were excellent for a team ranked eighth or worse.
I bet Bangladesh would be chalking the tour up as pretty damn good if they had been touring, not us.
However, I fail to accept eighth is appropriate for a New Zealand team and those lowly rankings should be used to benchmark against.
That is why I believe many fans are feeling uncomfortable about celebrating some excellent performances from our players for fear those players may get a false sense of how good they are.
Winning a 50-over World Cup would do plenty for cricket in this country and a win would garner some much-needed international respect - but cricket is yet to fall into a four-year cycle where the World Cup is the be-all and end-all.
Consistency of performance and far less dramatic fluctuations in results from game to game has to be the priority for this team now. And sort out their test game!
If there is one really heartening thing to come from the feelings this tour appears to have stimulated within the followers of cricket in this country, it's this: test results still appear to set the tone for rating a team.