Multi-talented sportsperson - and diabetic - keeping sugar levels up en route to India.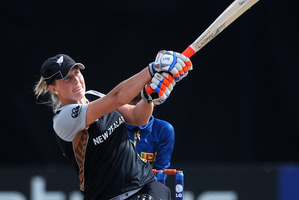 If you see Sophie Devine chewing on a few lollies while she's in the field at this month's women's cricket World Cup, don't be alarmed, she has good reason to be eating them.
In between representing New Zealand in cricket and hockey, the 23-year-old is also a type 1 diabetic - a condition she was diagnosed with when 15.
She said it hasn't held her back on the sporting field - her list of achievements back that assertion up - but she has to put extra time into maintaining her sugar levels.
"If I'm feeling a bit average, I definitely sneak a couple of lollies into the pocket, but they generally don't last too long," she said with a laugh. "It's about being prepared and knowing how my body's feeling and listening to it."
Her diet is largely the same as any other athlete, aside from a few extra jellybeans, jet planes and honey sandwiches, and she will hope New Zealand will soon dine at the top table during the women's 50-over World Cup starting in India on January 31.
New Zealand are in Group B with Australia, Pakistan and South Africa. Defending champions England lead Group A alongside India, West Indies and Sri Lanka.
This year's instalment will mark the fifth time the batter/bowler has been to a global tournament, having played in the 2009 edition and three T20 world championships.
She has never been in a tournament-winning side and knows the pain of losing on the biggest stage after New Zealand finished runner-up in three consecutive World Cups across both forms of the limited overs game between 2009 and 2010.
New Zealand haven't won a one-day World Cup since 2000 when they triumphed on home soil with a thrilling four-run win over Australia.
Devine, who first debuted for the White Ferns as a 17-year-old in 2006, said the current crop of players had the ability to win the World Cup.
"I think we've got a pretty solid team at the moment," she said. "We've been able to stick together for a wee while now, which is quite nice. In the past, we've had quite a few changes on most tours so now we have a pretty regular team, which is important for us. We have the game plans in place now that rely on our strengths and it's just a matter of sticking to our game plan and making sure we execute them well."
New Zealand's last 50-over series was against Australia before Christmas when they lost the Rose Bowl 3-1. Devine missed that series due to a foot injury but has recovered although the all-rounder might not bowl in India.
One of the ongoing debates surrounding Devine is whether she will make a fulltime commitment to one sport. Given the lure of heading to the Olympics, hockey might win out eventually.
Devine missed selection for the Black Sticks at the London Olympics, which was disappointing for her given she had taken time away from cricket to devote to hockey. The defender has played 36 times for the Black Sticks since making her first appearance in 2009. She conceded she will have to make a tough call at some stage with hockey's campaign ramping up ahead of next year's Commonwealth Games in Scotland.
Devine has a bit of spare time away from sport and she studied a landscape gardening course last year, and she previously completed a sociology degree at Canterbury University.
• The New Zealand women's cricket team yesterday sealed a historic T20 series victory in Australia.
A superb bowling performance had the Australians on the back foot soon after the Ferns won the toss and elected to take the ball at Melbourne's Junction Oval.
New Zealand were led by 22-year-old Morna Nielsen, who took 1-9 off her four overs at the front of the innings and picked up the cheap wicket of Alyssa Healy in her second over.
But it was Nielsen's searing economy rate that heaped the pressure on the hosts, who eventually struggled to a light total of 134/5.
Chasing a run rate of six and over for victory, Lucy Doolan (35 off 40) and skipper Suzie Bates (67 off 44) then poured on a 101-run opening stand to cruise to an emphatic seven-wicket victory with two overs to spare.
- APNZ