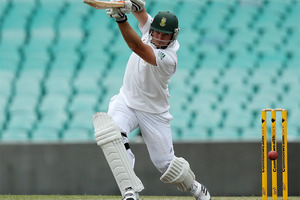 How come South Africa appear to hold all the aces in the series against New Zealand?
There are several reasons, seemingly irresistible pace bowling of the highest class, and the No 1 world ranking notable among them.
But take a glance at the respective numbers for the top six batting groups and there's a huge disparity.
South Africa can put up true champion performers, who have presented their credentials as among the game's best for years.
Throw in a highly efficient opener in Alviro Petersen and a middle order batsman in Faf du Plessis whose test career began three matches ago with a match-saving century at Adelaide, spread over more than a day.
New Zealand, by contrast, are a work in progress.
Only captain Brendon McCullum has reached even 30 tests - South Africa have two, Graeme Smith and Jacques Kallis who have gone beyond 100 - while Dean Brownlie and BJ Watling have yet to make it to 10.
But most revealing are the averages.
In the case of Smith, Hashim Amla, Kallis and AB de Villiers, there are serious numbers accrued over many years of hard achievement against the best bowlers the game has to offer.
It means that, in simple terms, when the heat goes on they know what is required, simply because they have been in that particular furnace over and over again.
True, South Africa have in Kallis the greatest allrounder to have played the game still going strong at 37 and a group of uncommonly talented batsmen around him.
New Zealand can't hope to match their hosts in terms of achievement. They are a work in progress and are learning in a particularly tough school.
So the hope is that they will prosper, heed the lessons and come through the other side far better for the experience.
And one other point: it would be intriguing if South Africa's batsmen had to sweat against their champion pace bowling attack.
But test cricket doesn't work like that.
The numbers may be cruel, but digging a little deeper than simply skim the surface of bare numbers and the size of New Zealand's challenge becomes more apparent.
Respective top six batting numbers
New Zealand
Brendon McCullum, age 31, tests 71, runs 4156, average 35.52, 6 100s
Martin Guptill, 26, 29, 1665, 30.83, 2
Kane Williamson, 22, 19, 1075, 31.61, 3
Dean Brownlie, 28, 8, 484, 34.57, 1
Daniel Flynn, 27, 23, 1038, 27.31, 0
BJ Watling, 27, 9, 402, 28.71, 1
South Africa
Graeme Smith 31, 106, 8570, 49.25, 26
Alviro Petersen, 32, 20, 1493, 42.65, 5
Hashim Amla, 29, 66, 5389, 50.83, 18
Jacques Kallis, 37, 159, 13040, 56.94, 44
AB de Villiers, 28, 81, 5961, 49.26, 14
Faf du Plessis, 28, 3, 308, 102.66, 1