Canterbury batsman is confident revised technique will enhance performance.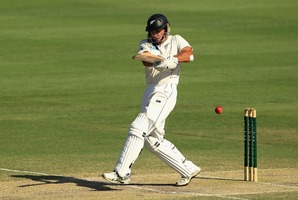 When Dean Brownlie returned from the West Indies tour in early August, he wasn't sure if that would be his lot as a test cricketer.
After an encouraging start in Australia last season, he had lost his way and was dropped for the tours to India and Sri Lanka.
Given another chance he grasped it at Newlands last week, hitting a maiden test century against South Africa to provide the one really bright point out of a dismal test for New Zealand.
"I wasn't sure if I was going to get another opportunity after the West Indies, so I had nothing to lose," he said yesterday.
"I've worked hard on my game, I'm confident with the game I've got that it works more often than not."
Among his problems had been a wonky backlift - or more specifically the absence of one.
"It meant everything was going across the ball. It probably looked pretty horrible and it didn't feel great.
I found I was beside the ball a lot of the time whereas I wanted to be behind it."
Changes in place, Brownlie is looking ahead with a clear mind and has confidence in his reworked technique. He admitted he struggles with the jitters before each innings, but once the wicket falls and he's on his feet "I seem to be all right".
Brownlie's first innings three-ball duck against South Africa, as part of New Zealand's horrible 45, didn't particularly faze him either. He wanted to be positive. That showed in 13 boundaries and two sixes, which took him from 92 to 104, off spin bowler Robin Petersen.
His innings had piles of courage, he took blows on the body, but drove and cut strongly before hunkering down with BJ Watling through the third morning session. That he threw it away seven balls before lunch, after 4 hours of admirable, if occasionally fortunate batting, hurt.
"It was extremely disappointing but hopefully something I can make amends for in the second test."
Brownlie, 28, was born and raised in Perth and his back-foot prowess with horizontal bat shots singles him out from many of his teammates.
Getting his century against perhaps the most formidable bowling attack adds a glow of satisfaction for the Canterbury batsman. His test average is up to 34.57 from 15 innings.
Hopefully he is poised to put his in-out status behind him.
Brownlie by the numbers
Age: 28
Tests: 8
484 runs @ 34.57
1 century, 3 fifties.
David Leggat travelled to South Africa with the assistance of ANZ.