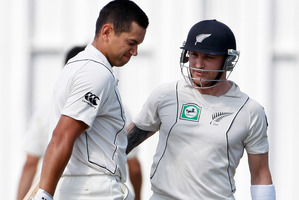 New Zealand coach Mike Hesson doesn't believe the Ross Taylor captaincy saga had a significantly undue effect on his team ahead of their opening day destruction in the first test at Newlands.
Hesson oversaw the change of leader, with Brendon McCullum taking over all three forms of the captaincy from Taylor after the pre-Christmas tour to Sri Lanka.
Taylor's last test was a 167-run win in Colombo at the end of November; McCullum's first turned to custard before lunch on the first day.
''I don't think it did," Hesson said on whether the Taylor situation had an impact on the squad going into the match.
''We had discussed that as a group, then we had moved on.
''No doubt Ross batting at No 4 would have been useful for us. But that's Ross' decision and we respect that. It would be nice to have him back at some stage."
Taylor, who averages 43.57 from his 43 tests, would certainly have been useful as New Zealand were squashed for 45, which effectively ended the test as a contest, South Africa going on to win by an innings and 27 runs.
Hesson wants to move forward, Taylor having effectively won the public sympathy debate against New Zealand Cricket, whose ordinary handling of the changover exacerbated the situation.
''The decision has been made. We acknowledge the issues we face and we're moving on," Hesson said.
''We're all disappointed about the first test result and as a support staff group and a coach we've got a lot of work to do and we're not shying away from it."
Hesson said it was not simply a case of dismissing their first innings effort. Lessons had to be absorbed.
''I don't think it's a matter of forgetting the 45; it's the learnings we can get from that. We were exposed to the ruthlessness of the way they went about it."
New Zealand will again study man of the match Vernon Philander, whose opening spell of 6-4-7-5 decided the game and whose74 wickets in 13 tests have come at a remarkable 17.4 apiece.
''Clearly Philander bowls great lengths and swings the ball around and nips it with the new ball. He asks pretty tough questions," Hesson said.
''Reality hit home after the first day. We know we've got to be extremely strong mentally and I thought we showed that for the latter part of the game."