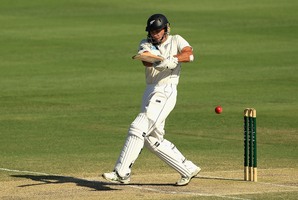 You could be forgiven if you were sure there would be changes to New Zealand's batting line-up for the second test at Port Elizabeth this week.
Events on day one at Newlands - bowled out for a humiliating 45 being front and centre on the exhibit tray - would suggest something has to happen. But it won't, if the captain is as good as his word.
Brendon McCullum maintained the top six batsmen - who scored 1, 7, 13, 0, 8, 0 and faced a combined 76 deliveries - warrant another chance to show they're better than that.
"I think they all deserve another opportunity," he said after the three-day innings and 27-run belting. "We did see some improvements (in the second innings) and we have got some cover with Colin Munro. But I'd be inclined to go with the top six."
Auckland left-hander Munro is the only batsman available as an option. He's only in the test squad as a replacement for the injured Peter Fulton and is on his first trip.
But he's in good domestic form and has a pugnacity about his batting - which won't be seen at Port Elizabeth by the sound of things.
The bowling is different. Two left-arm seamers, burly Mitchell McClenaghan and Neil Wagner, are in Cape Town as is Auckland's seasoned left-arm spinner Bruce Martin who, like McClenaghan, is on his first New Zealand tour.
Should 38-year-old Chris Martin, coming towards the end of a fine career but who bowled better on the second day than a weary first, get another chance?
Doug Bracewell is off his game, leaked boundaries like a two-legged sieve in South Africa's innings. But he's the future and seems sure to be retained, as does Trent Boult. Offspinner Jeetan Patel may not be so lucky. He posed no threat to South Africa. Bruce Martin, at 32, could be in luck.
"At this point, we're just dealing with what's unfolded over the last couple of days," McCullum said.
Fair enough. The plan seems to be to rake over the embers, pick out the important learnings, then put the match in the bin (cricket-speak for Steve Hansen's flushing the dunny line) and start afresh.
When asked if the much improved second innings 275 had helped ease some of the first-day pain, it was like jabbing an open wound.
"We'll never rid the memory of 45. That'll stay with us forever," he said.
McCullum's test was probably rounded off nicely when he heard South Africa's captain Graeme Smith say he was going to field anyway; was surprised New Zealand had chosen to bat; and reckoned the Newlands pitch had more moisture in it than usual.
It's a decision that will haunt the new skipper for some time.
One player who might find that mental task easier than some others is Dean Brownlie, whose fighting maiden century was the shining light out of a test which otherwise should to New Zealand eyes be permanently shrouded in darkness.
Brownlie did have some good fortune, dropped twice at 23 on the second afternoon. But he counter-attacked when given the chance and was amply rewarded.
In time, he'll even come to savour the experience, and rue his awful dismissal the over before lunch, scooping a catch straight to deep point.
But for now, it's the team collective which is uppermost in everyone's minds.
"I'm still thinking about the loss as the main issue. In time, I think when I look back I'll appreciate how much I've learnt from that innings and how much I respect the other team, so that makes it all the more satisfying for me."
A key was the desire to be positive - "I didn't want to wait about to be got out. I wanted, hopefully with a bit of luck, to take my chance."
BJ Watling, too, knuckled down impressively yesterday, grafting three and a half hours over 42. But that was about it. The tail offered little other than their quick-footed talent for stepping away to leg stump as Dale Steyn looked to bring a swift end to proceedings.
South Africa were business as usual - save a poor hour after tea on the second day, when catches were spilled and the bowling lacked its trademark zip and persistence.
The remarkable Vernon Philander's five wickets in 25 balls on the first morning decided the test. The man of the match finished yesterday with a tight hamstring - in a different place to the injury which almost counted him out of Newlands.
Steyn, whose dismissal of James Franklin yesterday gave him 50 against New Zealand in nine tests, is a menacing master of the pace game. And if the third member of this classy triumvirate, Morne Morkel, was off his best, it didn't really matter against this batting group.
"It's about winning at the end of day, which is how you're defined in modern sport," Smith said. "If you play games like this and are dominant and take the game forward, obviously it's very nice. There's a good degree of confidence in the squad which enables you to play that way."
Confidence, too in the knowledge this test was boys against men much of the time - or world No1 vs No8. Smith is wary, though.
"I saw Queens Park Rangers beat Chelsea the other day. I wasn't expecting that," he said. "I'm very aware that you're just one bad performance away from being very close. That is sport and you've got to keep yourself on your toes.
"In those (key) moments, we recognised we were able to take them better than New Zealand."