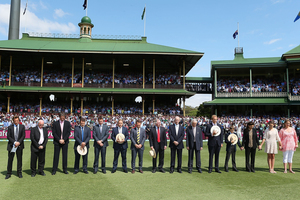 Australian cricket bid a fond farewell to former England captain Tony Greig before the first session of the final test against Sri Lanka at the SCG yesterday.
The crowd stood to observe a minute's silence in honour of Greig, who died last weekend aged 66 from a heart attack while battling lung cancer. Greig's trademark sunhat sat on top of the stumps at the member's end before play, before being taken away by his sons Mark and Tom, who, like many in the stands, were wearing wide-brimmed hats as a token of respect.
The sons embraced before heading from the ground before the start of play. Greig's family and the Channel 9 commentary team were invited by opposing captains Michael Clarke and Mahela Jayawardene to join the players and officials on the SCG before play.
His wife, Vivian, was overcome by the outpouring of emotion, saying: "I just wish he could have seen it. I'm so grateful, truly grateful."
The SCG Trust had urged fans to wear Greig-style wide-brimmed hats, and thousands did. Australian captain Clarke also wore a neckerchief, in Tony Greig style, as a personal tribute, as he led the Australians onto the field.
Australia did the business on the field, reducing the tourists to 294 all out at stumps.
Sri Lanka got there in large part thanks to Mahela Jayawardene, playing in his final test as captain. Missing his best batsman, Kumar Sangakkara, with a finger injury and with Sri Lanka in an early hole at 26-1, Jayawardene thrust himself up the order and into the action like only a captain can, scoring a spirited 72.
It was a defensive single off Mitch Johnson that lifted him to 23 for the day and 10,697 for his career as he went past West Indian Shivnarine Chanderpaul into eighth on the all-time list.