Bowling coach says careful management across three formats is critical for maximising players' readiness.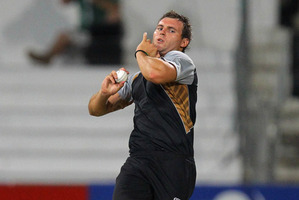 Bowling coach Shane Bond wants New Zealand to become smarter in how it uses its best bowling resources.
Time was when the best players played all the time, injury permitting. However the crush, and variety, of international commitments mean that has to be revisited.
There is a growing feeling that, partly to avoid over-burdening the country's best bowlers but also to enable them to concentrate on the requirement of the test game, picking players for specific forms of cricket, and tours, is the way forward.
On the tour of South Africa, left-arm swing bowler Trent Boult, although in the T20 group for the opening three matches, was not used.
Doug Bracewell will head home after the two test matches, skipping the three ODI games which wrap up the tour. His form in the T20 series was ordinary, even though he finished with the best wicket haul, five at 17 apiece.
When England arrive in New Zealand next month, using former test quick Bond's reasoned thinking, Bracewell and Boult may be saved from at least one of the T20 or ODI legs of that ANZ series and kept fresh for the three tests in March.
"T20 is a great game to introduce people to the environment, but it's also a game where you can get into bad habits," Bond said.
"You saw that with Tim Southee, when he had a consistent run of T20s and bowling yorkers all the time, it can adversely affect your test performances.
"We have bowlers who have better skill sets for test cricket. In terms of keeping those guys fresh and breeding some depth underneath those guys, it's important you've got to pick and choose series for some to play in."
The die has already been cast for some.
Test veteran Chris Martin hasn't been required in the two short forms since February 2008.
His fellow Auckland seamer, Kyle Mills, is seen in the opposite light. His last test was in Hamilton against India three years ago, but he's back to South Africa for the ODIs later this month.
"For [those] like Doug or Trent, this is probably the first stint where they've played consistent cricket for a year, so there'll be periods where they're going to be flat and get a little tired," Bond said.
Bracewell has bowled poorly of late in the shorter versions and Bond reckons switching requirements between those forms and tests hasn't helped. He has taken 42 wickets in his first 13 tests at 30.47. But 26 came in his first five.
Asked if he was worried about Bracewell's effectiveness being diminished by playing too much T20 or ODI cricket, Bond said: "'We are aware of it. Doug has been going for 15 months straight and it's important he gets breaks. We're trying to get him back to the point where he is successful swinging the ball.
"When he bowls outswing in T20 it's often not the spot to bowl, that fourth stump line swinging away, because you get whacked over cover.
"He's had to modify his skill set, but you can get into bad habits. We have worked hard in the last few days with Doug to get him back where he was six months ago."
Bracewell was one of the Hobart heroes, when he took 9-60 in the seven-run win over Australia last December. Since then there have been some poor stretches.
Giving him - and Boult and Southee - clarity over their roles can't hurt their productivity.
New Zealand have other seamers who can do a job in the shorter games. That goes to Bond's point about growing the depth of bowlers who can do specific jobs.
It's not to say remove the key test bowlers from the other forms; it's keeping their focus on the premier game.David Leggat is in South Africa with the assistance of ANZ Bank.nzherald.co.nz
For test updates