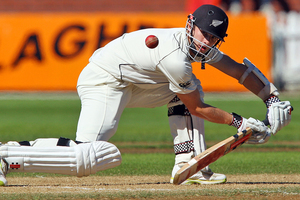 New Zealand have a test vice captain against South Africa, although the role is not top of new skipper Brendon McCullum's priority list.
McCullum, preparing to take charge of the national side in a test for the first time, has confirmed No 3 batsman Kane Williamson will fill the role during the two-test rubber starting at Newlands tomorrow night if one is needed.
Recently McCullum has publicly raised the idea of seamer Tim Southee as a vice-captaincy candidate, a move that would not have been universally well received at New Zealand Cricket HQ. Williamson is expected to be a test skipper at some point down the line. One argument put up to hold off tagging more responsibility onto Williamson's shoulders at this stage of his career, was giving him more time to work on his batting development.
However Southee is injured and out of the South African tour, so Williamson it is, should McCullum have to vacate the field for any length of time. McCullum recently spoke highly of Williamson's "great cricketing brain".
"We're not looking to name a vice captain," McCullum said yesterday.
"I'm not a big believer in vice captains. As long as you have a good, strong leadership group around you, that is more important than having a vice captain."
McCullum, preparing for his 71st test, will be New Zealand's 28th test skipper. His immediate predecessor, Ross Taylor, was at the helm for 13 tests.
New Zealand's most-capped leader is Stephen Fleming, who captained the country in 80 tests and is now McCullum's manager.