His unerring accuracy and game smarts still make him an attractive proposition for T20 franchises.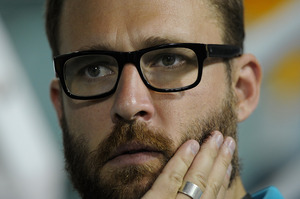 Daniel Vettori knows the clock is starting to tick fast on his international career but says he will not be making any decisions while he battles back from a niggling Achilles injury.
Whispers had started turning to shouts that this summer's home series against England would mark Vettori's international swansong, but his continued absence from cricket could delay any such announcement.
"I don't want to make any big decision like that while I'm injured," he told the Herald. "When you do that, you make poor decisions because you do them without any clarity."
Only when you were playing could you get a true gauge on your enjoyment of the sport and motivation levels, he acknowledged.
Vettori said his only focus was getting his body right. He is not targeting any game, any competition or any series for a return because making deadlines has been a futile routine in what has proved a "slow process".
He did, however, take exception to a report that said he aggravated his troublesome Achilles injury while training for the Brisbane Heat in the Big Bash League. "I wasn't training or playing at all in Brisbane," the 33-year-old spinner said. "I re-injured it while training to try to get back for Northern Districts." That, he said, remains his priority. He is still hopeful of returning to the only New Zealand association he has played for before the end of the summer.
Vettori was reluctant to make the three-test England series his target for two reasons: there are no guarantees his body would respond in time; and it would be arrogant to assume that a return to fitness would automatically constitute a return to the national side. "Jeetan Patel and Bruce Martin could be the incumbents by then," Vettori said.
While his outstanding record since bursting on to the scene as a precocious 18-year-old mop-top in 1997 would suggest this is false modesty, Vettori has not played a test for New Zealand since July and has struggled to make a telling contribution with bat or ball in recent times.
The last time he passed 50 was a back-to-the-wall 96 against Australia in Brisbane in December 2011, which was also the last time he took any more than one wicket in an innings.
Part of the reason for his bowling struggles has been the willingness of opposition to wait him out, but mainly it has been a body that has become less co-operative with every passing year.
It would, however, be a huge shock were Vettori not to be picked if he was available. Vettori adds balance to the batting line-up and the former captain's experience could prove invaluable to the new captain and coach combination of Brendon McCullum and Mike Hesson.
If he does not get back in time for the ANZ series against England - the first test starts at Dunedin's University Oval on March 6 - and indeed calls time on his New Zealand career, his name will still feature on the T20 scene.
He unerring accuracy and game smarts still make him an attractive proposition for T20 franchises and he will continue to exploit these opportunities for some time. He has a three-year deal in place with the Brisbane Heat and plays for the Royal Challengers of Bangalore in the Indian Premier League.
Vettori by the numbers
Tests: 112
Runs: 4516 @ 30.1
Wickets: 360 @ 34.42
100s/ 50s: 6/ 23
5-fors/ 10 wickets: 20/ 3
Vettori is one of only three players, Kapil Dev and Ian Botham being the others, who have scored more than 4000 runs and taken more than 300 wickets in tests.