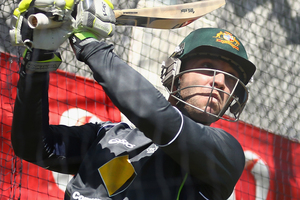 Sri Lankan batting great Kumar Sangakkara has warned Australia's Phil Hughes that no matter how much he's improved his technique, he's still only one ball away from a cheap dismissal.
The 24-year-old veteran of 17 Tests was dropped after the Hobart Test against New Zealand a year ago and has been recalled for the Sri Lankan series, with a likely role at No.3 instead of his usual opening role.
Criticised in the past for poking catches to the slips cordon, the NSW product has averaged more than 50 in Sheffield Shield cricket with his new side South Australia this summer.
"It's a great feeling. I'm really excited about it,'' Hughes says.
"Twelve months down the track, I feel like I'm in a better place now.''
The pull shot is the big weapon for Hughes these days, after relying heavily on the square-drive and cut in the past.
"It is a lot different. Probably 70 to 80 per cent of my scoring options were on the off side,'' Hughes said.
"I feel now I've got both sides of the field covered and that's something I had to go away and work on.
"The leg-side play was something big in my mind that I had to focus on.
"I'm free-flowing now. It's easier when they do bowl straighter that I can work off my hip and off to the leg side.''
Sangakkara, who needs 107 runs in the Hobart match to become the 11th member of the 10,000-run club, says Hughes has certainly made a big impression at domestic level this summer.
"Well, I think batsmen evolve and performance necessitates that they do evolve or change or do some tweaking to their technique if it's causing them a problem,'' Sangakkara said.
"Phil has scored a lot of runs this season. He's averaging in the fifties for the season so it shows he is in good form.
"But a good ball is a good ball to anyone. Again, when we bowl at batsmen, it's all about trying to build up pressure consistently by bowling in good areas.
"So it will be an interesting battle.''
- AAP