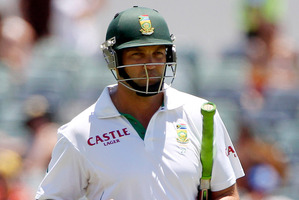 Test cricket has always tended towards a leisurely pace but some recent stoppages are bordering on farcical.
Fans appreciate the courage required to face fast bowling and the toil of those same bowlers in harsh, sun-baked climates around the globe, but players have a duty to participate as much as possible and to avoid disruption.
Delays hit a low point when New Zealand were 383 for eight last week on the second day of the second test against Sri Lanka.
Jeetan Patel approached the umpire, exchanged a few words and 'voila!' - out popped a pair of blunt nail scissors. At least they looked blunt, judging by Patel's subsequent hacking at his thumbnail.
Presumably umpires have the scissors to cut loose strands of seam off the ball or ripped batting grips. Using them to manicure Patel was stretching credibility. Surely he could have sorted the issue in 4.2 overs' time at tea.
At that point, he could have sanded the offending nail and applied a coat of protective polish.
The point is not to persecute Patel but rather to indicate there are trends developing which hold matches up unnecessarily.
Tillakaratne Dilshan stepped on to the field after one session and, within a few balls, required the assistance of a backroom staffer to tape his fingers. Do it in the dressing room.
During his century, Kane Williamson indicated he wanted fresh gloves a couple of overs before drinks.
Twelfth men are rushed on regularly to give jaded players - particularly bowlers - a break.
Drinks are brought out at any given opportunity by extra squad members who are starting to look like meddlesome, fluorescent-vested rugby and league trainers making thinly-disguised efforts to pass on tactics. It seems too cynical.
There are already plenty of opportunities to get hydrated over the course of a day - drinks edition I, lunch, drinks II, tea, drinks III - anything extra is a disruption to paying spectators. Players should adopt a lawn-mowing or haymaking mantra: do the job and enjoy the reward of a cold beverage at the end.
The field of play surely has to be treated as sacrosanct; once you enter, you cannot leave or pause for nutritional or other comfort reasons. Okay, man is not a camel, especially in the likes of Dubai, Dhaka or Dambulla, so perhaps two shorter drinks breaks could be built into each session with both teams' permission. Anyone who has experienced the subcontinent appreciates it can be a demanding environment where water, sport drinks et al are often literally an oasis in a desert, but a line has to be drawn.
The International Cricket Council recently did a great job eliminating runners from the game.
Lazier and less fit cricketers were using it as an option when they had merely suffered fatigue from the impact of a tough match.
The practice has since been stamped out. It means genuinely gutsy scenarios like Jacques Kallis scoring 58 and 46 with a tweaked hamstring and Faf du Plessis making a century on debut with cramp and back spasms to save the recent test against Australia can be appreciated more.