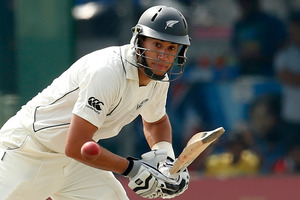 The clamour from critics linking Ross Taylor's captaincy to New Zealand's cricketing woes needs to cease.
Since Taylor led by example to make 142 and 74 in the test win in Sri Lanka, evidence is needed as to why he is supposedly ill-suited to the position.
As captain, Taylor is an easy target considering the team's poor previous results, but any innuendo about a lack of captaincy nous, the inability to think on his feet or articulate a plan has surely been countered by his actions with the bat.
Two months ago during the World T20, the Herald on Sunday contacted three sources who have worked with, or are in regular contact with, the team. Each agreed Taylor had areas to work on as captain, such as how he articulated his messages to media and players, or making fielding decisions under pressure. None suggested his spot was under immediate threat.
They said he was one of the most honest, humble individuals they had met in the sport and could be an outstanding captain long-term, provided he addressed those issues.
A former New Zealand captain, however, suggested senior players needed to ensure they committed to Taylor to support him through a tough grooming period.
He said if such players remained intimidating or fixed in their ways, it would put any fledgling captain in a "terrible position" because "it takes you years to develop those skills, it's not something you just jump in and do".
One truth omitted from anti-Taylor dossiers is his stoic resistance. He's shown more of that quality than others. TV coverage of the Colombo second innings produced a powerful image: the cameras drifted from Taylor in the middle to the grandstand players' enclosure - where team-mates appeared to be sharing a joke, lifting their shirts over their noses as if someone had made a bad smell. Taylor went on building New Zealand's lead so they wouldn't have to suffer the ignominy of equalling the national record of six straight test losses.
It wasn't a rarity from Taylor. In September during the World T20, he made 62 off 40 balls to help New Zealand tie with the West Indies before losing in the eliminator over. Taylor then had to front the media, vouch for his team-mates' courage and try to deal with the pressure over the lack of success.
He is unfortunate in having so many inexperienced personnel. Compare that to the last two Australian test captains Michael Clarke and Ricky Ponting.
Both are renowned for leading via their batting rather than inspirational words, yet each had the luxury of entering the role with veterans around them.
Like coach Mike Hesson and manager Mike Sandle, Taylor will no doubt front the New Zealand Cricket board on his return. The board faces its own pressure as the sport slips through a public feedback cycle where reactions ranged from anger to pity to apathy.
The board will be keen to exonerate itself by flexing its muscle and finding someone to blame. If Taylor is made a scapegoat, it would be a indirect slap to his tenacity and the board's own decision-making processes.
It oversaw a presidential-style campaign between Taylor and Brendon McCullum last year. Taylor was appointed, despite McCullum always rating highly in player leadership surveys. To McCullum's credit, he has never publicly sulked.
Surely the board's logic behind the June 2011 decision has not wavered? Taylor's form certainly hasn't. Since becoming official captain in October, his batting record in all formats has improved.
In 13 tests as skipper, he's averaged 49.85 compared to 43.57 overall. He gets past 50 runs more than 30 per cent of the time, just as he did without reins. In nine one-day internationals - albeit against Zimbabwe, West Indies and Sri Lanka - he's averaged 50.42 compared to 37.86 in a 116-match career. In six T20 internationals as skipper, his average has spiked to 38.80 with a strike rate of 133, compared with 24.37 at 120.
Patience is required. Taylor has proven the most consistent batsman in the team and one of the most reliable slip fielders in New Zealand's history - at one stage last summer, he averaged a non-wicketkeeper world record of one catch per innings in tests. However, catching has let him down on occasion in the past few months.
At 28, Taylor is not alone as a relatively young captain mastering his trade. Arguably the country's best cricket skipper, Stephen Fleming, struggled as a newly-appointed 23-year-old. Likewise, Richie McCaw first became All Blacks skipper aged 23 in 2004 before taking the job permanently aged 25. He even survived his team being ousted from a World Cup in the quarter-finals before rising to national hero when the Webb Ellis Cup returned last year.
History suggests Taylor is not too young. Geoff Howarth was 28 in his first test in charge, as was Daniel Vettori, while Martin Crowe and John Reid were 27.
Certainly the New Zealand team's run of late has been poor, but such results are not unique to Taylor's captaincy. Apart from a first-time World Cup semifinal spot on the sub-continent last year and a first test victory over Australia in more than 18 years, the post-Fleming years remain bleak.