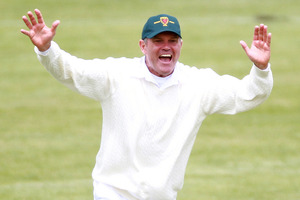 New Zealand's failing batsmen need to "look in the mirror" as they seek to dig themselves out of a five-test losing streak, says former batting champion Martin Crowe.
In an open letter "addressed" to captain Ross Taylor and the first test quintet of Brendon McCullum, Martin Guptill, Kane Williamson, Daniel Flynn and James Franklin, Crowe ran his eye over their individual games.
It appeared on the cricinfo.com website in the wake of New Zealand's dreadful second innings display against Sri Lanka en route to losing the first test at Galle by 10 wickets.
Crowe wrote, "Mostly I just want you to decide on who and what you are and what you know, what you bring to international cricket, what you want to give for your country. From the outside, you look dispirited, disjointed and disoriented.
"Wrongly, you are looking outside for the answers. Look within, look in the mirror and ask yourself to stand up and be the men you are ...
be honest, strip away the rubbish and focus on what's important and what's really and essentially you."
Crowe, who also described batting six hours in a test as "better than sex", said the players had to "remind yourselves of the affirmations you will need to control the concentration required for each ball, stick your chin up, and turn to face the music with fierce focus".
Opener Guptill needed to "throw away any negative thoughts" and "make them suffer with your large frame and bat forming a wall they can't get through".
Taylor had to "defend the wicket-taking ball, wait for the loose one. Bat in 10s, chalk up as many 10s as you can"; Flynn had to drive more down the ground, rather than rely on runs coming square of the wicket; while Franklin was told "what the hell are you doing?".
"For a big, strapping lad to be blocking every single ball with a half-step and a lazy stroke is a complete waste of all you have learnt in the last 15 years ... see it, go hit it".
McCullum had to "get rid of the desire to have what is popularly known as 'positive intent' to your innings; it's too general and can get you into trouble. Instead just bat ball by ball; keep out the good one softly, and hit the bad one brutally ..."
Williamson was told "bowlers are working you out ... get behind the ball, get rid of a high backlift (also suggested to Guptill), which restricts leg side options", but be aware "you are potentially world class, but you need to believe it, too".
Crowe - who hit 5444 runs in 77 tests at 45.36 over a 13-year career, ended by reminding the batsmen that in a test, "The greatest achievement is seeing how many times the umpires take you off the field, undefeated."