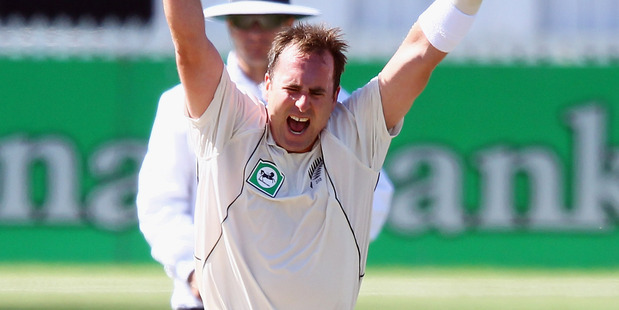 Events at Rangiora this week have made the Canterbury-Wellington Plunket Shield clash the most intriguing at this early stage of the domestic season.
First off, Dean Brownlie hit 133 for Canterbury, his second hundred in the space of four first-class innings this season, after 113 against Otago. Remember, fresh in the mind is New Zealand's latest horror batting collapse, in the first test against Sri Lanka in Galle.
Brownlie was left out of the trips to India and Sri Lanka after his form tailed off in the West Indies.
Next up is South Africa. Brownlie is most at home on bouncy pitches, which can be traced back to his years learning the game in Perth.
No slow, docile burnson burners out there and when Australia looked to put New Zealand through the wringer late last year, it was Brownlie, in his first series, and armed with cross-bat skills necessary when the ball is bouncing, who stood up best.
Expect a recall for South Africa for a man with a first-class batting average of 43.8.
Of just as much interest was the performance of Mark Gillespie. The stocky Wellington new ball bowler, among the more enigmatic of New Zealand cricketers in the last decade, took four for 74 in Canterbury's first innings but took some tap in the second as Canterbury chased down 303 to win yesterday with six wickets to spare.
Although New Zealand's fast-medium cupboard look to be in reasonable shape - and certainly better than the batting group - that's no reason to sit back content that all is well.
Gillespie has potentially another three first-class games to prove his fitness and get himself a place in the test squad. There's no guarantees but it's an intriguing prospect.
Wellington visit Auckland next Monday, host Central Districts on December 10 and Northern Districts a week later. The test leg of the South African trip starts in Cape Town on January 2, followed by the second test at Port Elizabeth from January 11.
The 33-year-old has had a wretched run with injuries, most recently a severe ankle sprain which didn't respond to treatment as quickly as hoped. Back injuries plagued him a few seasons back. January, 2009, especially, was a dark time.
"It got to the point where I thought 'Stuff it, I'm just going to give it a crack," he said. Twice his thigh "fell apart".
Last summer, after winning his test recall, with considerable success, he remembered five doctors telling him to pack cricket in.
One suggested he try commentary, which would have been interesting given a sometimes flinty view of the media.
It says something for his attitude that he persevered.
But one thing is abundantly clear about Gillespie: yes, he can be pricy at times, but he gets good batsmen out. Always has. His debut against Otago in 2000 was marked by a five-wicket bag.
He has played just five tests, and apart from a disappointing outing against the West Indies at Dunedin in 2008, when not fully fit, has taken at least five wickets in each match.
When he was recalled for the second test against South Africa in Hamilton last season he breathed fresh life into the attack.
Despite a frame which would argue against an ability to produce genuine pace, Gillespie hurried the batsmen, made life uncomfortable and was the key figure as the tourists' were reduced to 185 for eight - matching New Zealand's first innings total - only to get away to 253 due to some collectively brainless bowling to tailenders.
Lamentable batting again produced the usual result the following day and that decided the outcome of the series.
Gillespie grabbed six more wickets in Wellington the next week.
He is an out-and-out trier and provided a point of difference among a crop of 135kph bowlers.
He is injury-prone. Trace that back to a mix of gut-busting determination, allied to that physique, and lack of luck.
But when he's on, he is as effective as anyone in New Zealand, in his distinctive way. If you're looking for a tight-fisted operator tying up an end, he's not your man.
Fast-medium bowlers used to be placed in one of two categories, stock and shock.
Stock men did the donkey work, pulling the unfashionable shifts, often into the breeze; shock was the term for the quick man used in short, sharp bursts, more attack-minded.
That's Gillespie. Watch his form in the next month. South Africa is beckoning.