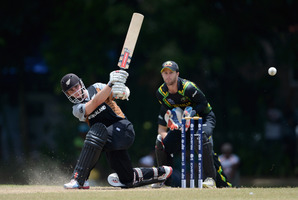 Kane Williamson should be given a permanent place in the New Zealand batting order rather than bobbing between opener and "did not bat" in shorter formats because of a perception he's incapable of scoring quickly.
Coach Mike Hesson and captain Ross Taylor risk undermining Williamson's confidence if he is subjected to musical chairs every time he bats. The 22-year-old has been part of the New Zealand set-up for more than two years and would benefit from a more settled position, like that given to Taylor at No4 in all forms.
Williamson has batted anywhere from No3 to No7 in 33 one-dayers and 16 tests and has been pushed to further extremes in 13 Twenty20 matches with appearances as an opener and No 8. In the second match of the most recent series against Sri Lanka, Williamson was not deemed worthy enough to don the pads ahead of Nathan McCullum and Andrew Ellis.
It is perplexing Williamson is not used to greater effect in the shorter formats. His strike rate holds parity with most of New Zealand's top batsmen apart from Brendon McCullum and Jacob Oram.
He has also enabled New Zealand to escape from tight spots, like chasing down 201 to beat Zimbabwe in Hamilton. Williamson hit 20 off five balls to secure the win with two balls to spare. He seems a victim of having a classical technique - i.e. if you can't slog the ball through the leg side, you are a limited overs liability.
So, where should Williamson bat? In tests, No3 seems the logical spot. An order which reads Martin Guptill, McCullum, Williamson, Taylor at least imbues a degree of confidence, despite the team's record of late. Williamson has spent 10 of his 29 test innings there and averages 29. He averages 39.71 in seven innings at No6 while his best innings to date - 102 not out to save last summer's third test against South Africa - came at No4. However, the team has to look longer term and Williamson's technique is capable of negotiating the new ball if there is an early wicket.
New Zealand could take note of how Australia developed their captain Michael Clarke. At the same 29 innings point in his 139-innings career, Clarke had ventured outside Nos4 and 5 just seven times - and that mainly caused by the use of nightwatchmen. That consistency has paid dividends as his career flourishes.
In ODIs, Williamson seems best suited to No3 unless Taylor opted to push himself up a spot to see more of the 50 overs. No3 gives Williamson the opportunity to get his eye in and build an innings without flailing at everything immediately. That is the job of McCullum, Taylor and Jesse Ryder, should the latter opt to return. The middle overs between 15 and 40 seem conducive to Williamson pushing singles and utilising his strong running between the wickets.
In T20s, there is a stronger argument to push Taylor to No3, meaning Williamson could be used at No. 4. His strike rate was the third best amongst the New Zealanders (behind Brendon McCullum and Oram) going into the World T20. At 118, it remains in the same bracket as Guptill (122), Taylor (120) and Franklin (119).