White Lighting lauds his apprentice but refuses to admit the South African leather launcher is quickest.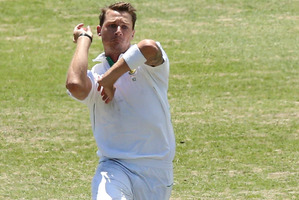 It's 1998 and Allan Donald receives the new ball during Australia's first innings in the second test against South Africa on what was supposed to be a benign SCG pitch.
Mark Waugh - nearing a ton - and his brother Steve, sniffing around another half century, would have been forgiven for thinking as much as Australia cruised to 211-3 in reply to the Proteas' 287 first innings dig.
What happens next brings tears to an Ocker's eyes. The SCG deck suddenly comes alive as Donald peppers the supposedly set Waugh brothers. Ribs, kidneys, back, thigh - nothing is safe as Donald lets rip.
That spell remains one of test cricket's most brutal, even in a losing cause.
Donald is a hard act to follow, having taken 330 test wickets at 22.25, yet he has warned we ain't seen nothing yet.
Donald may have the cool nickname - White Lightning - but the first South African to notch 300 test wickets has provided Proteas spearhead and world No1 bowler Dale Steyn the best moniker yet - The Greatest.
"Honestly, and I am being 100 per cent, I think he is the greatest bowler for South Africa, if not the best ever, I have seen," Donald said. "He has got everything you wish for in a fast bowler."
Donald would have drooled at the prospect of being unleashed on the juicy Gabba deck in the series opener in Brisbane today.
Especially after being forced to make do with pitches prepared for a certain successful Australian leg-spinner during his trips Downunder.
However, Donald - now the South African bowling coach - reckons watching Steyn let rip in the Proteas' first test in Brisbane since 1963 may make up for it.
"What makes him such a magnificent bowler is the length he bowls," Donald said of Steyn. "He's difficult to get at, he swings it at 148-150km/h, and he's aggressive. That makes him a huge threat to any side, and he keeps coming all day."
As scary as Steyn is, Donald baulked at the big question: Who's fastest - present day Steyn or late-90s Donald?
"Jeepers, I find that very hard to answer," Donald said.
"I really don't know. I think around 1998 I was bowling at my quickest at about 150km/h.
"Whether I can say I was quicker than Dale I am not even going to go there. It's not for me to call that."
When the dust settles on the battle for test cricket's No1 ranking this summer, we may be able to draw our own conclusions.
Targeting Proteas' weak links
The touchpaper has been lit under the Australia-South Africa test series starting today, with a dossier listing the weaknesses of the Proteas leaked to the media, as is tradition. Some of the plans prepared for South Africa's "big three" batsmen are:
Hashim Amla
The Australians will look to get into the head of the world's No 1-ranked test batsman. Put another way, sledge him mercilessly. They will also pepper him with bouncers.
Graeme Smith
South Africa's skipper loves a scrap, but technically he is not the most proficient of batsmen. Australia think if they they can trap him on the crease and have him lbw early on, the doubts will start to creep in.
Jacques Kallis
One of history's most prolific run-scorers, Australia want to test the ageing Kallis with a bumper barrage.
The bowlers aren't ignored either. Loose legspinner Imran Tahir is seen as a target. They also want to be aggressive against the "inconsistent" Morne Morkel. As for Vernon Philander, the home side plan to be patient against him, seeing him as untested when bowling third and fourth spells.
How it seams
Steyn v Donald
Tests: 57 / 72
Wickets: 287 / 330
Average: 23.50 / 22.25
Australia v South Africa
Brisbane, 1pm, SS 3.
- AAP