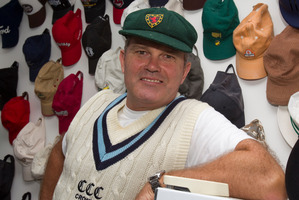 Former New Zealand cricket captain Martin Crowe has been inundated with support after news of his fight with cancer went global.
Arguably New Zealand's best-ever batsman, Crowe has been diagnosed with lymphoma, a cancer that affects the lymphatic system, after an MRI scan.
Crowe yesterday received messages of support from fans in the West Indies, India, Pakistan, England and Africa as well as dozens of emails.
Many took to Twitter to wish him well, including former foe English batsman Allan Lamb, who said his thoughts were with him and he was "one of the best batsmen I played against".
Crowe's manager, Louise Henderson, said despite the initial shock from the diagnosis, Crowe and his wife, former beauty queen Lorraine Downes, were dealing with the situation well.
"His state of mind is really incredible and I think he's a champion," said Ms Henderson.
"Lorraine is just a trooper as well and again it comes from that champion mentality - managing demons and fears at a competitive level.
"They are kind of match-fit at calming that thing down.
"Obviously they have gone through the immediate wave of shock, the storm has hit and now they are empowering themselves through information and meetings."
Crowe's former teammate and coach Warren Lees told the Herald yesterday he believed his friend's single-mindedness would help his fight.
"He planned the [1992] World Cup ... and he was briefly the best batsman and the best captain and therefore he has overcome things in the past," said Lees.
"It's a different challenge but if anyone could overcome it Hogan [Crowe's nickname] would have the determination and a mindset to overcome it.
"He's definitely got that [mindset]."
Ms Henderson said Crowe initially complained of swelling to his glands which led him to see a doctor.
"It's almost like you go to the GP with a sore throat and swollen glands and you know you're run down, they will say "slow down and get more sleep, take a tonic, whatever.
"If you're prone to that sort of thing that could be a sign that your immune system is vulnerable and that can mean that your lymph nodes - so your immune system is an indicator."
Crowe saw a nutritionist yesterday and will continue to see specialists over the coming few days.
A prognosis could be available next week, said Ms Henderson.