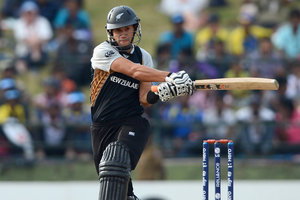 As the New Zealand players prepared to board one coach to take them to Colombo airport after missing the World T20 finals, another coach contemplated how to inspire the team to greater deeds.
Mike Hesson has placed the first brushstrokes on the legacy canvas he hopes to leave as New Zealand cricket coach on this tour. After two test losses and a T20 win in India he was faced with mustering a side to win T20's international showpiece.
New Zealand produced mixed results. They had the players to compete on any given day but seldom did so; they lacked the ruthlessness to seal off matches, losing their last four. Different results (two extra runs in two tied matches) and they would've topped the Super Eights rather than facing super overs which led to torment.
New Zealand's third exit in as many World T20s without making the semifinals hints at a trend.
New Zealand made consistent totals and failed to get a batsman to 50 only once (against Pakistan where five scored between 15 and 33).
Their lowest total was the 139 for seven against the West Indies where the highest partnership was 33. It demonstrated players rarely work well in pairs.
The bowling had touches of mastery and frustration. Tim Southee often excelled at the death but struggled with super-over pressure. The six powerplay overs proved a problem, particularly in the last two matches against England and the West Indies.
With Kyle Mills (33), Jacob Oram (34) and possibly Daniel Vettori (33) unlikely to bowl at the next tournament, it's an area New Zealand needs to develop.
The fielding was largely competent although there were several dropped catches in pool play, notably the Ross Taylor captaincy distraction when he put down Pakistan captain Mohammad Hafeez in the first over at slip.
Hesson was circumspect in his assessment, especially regarding the super overs.
"It's hard to simulate those situations, we try to keep our trainings as competitive as possible because the more the guys are put in those situations the better they get.
"I thought we played pretty well throughout. We were two runs away from being top qualifier. There's a level of satisfaction but every team who leaves without the World Cup is disappointed."
Hesson disputed claims that there was a lack of match winners in the team, outside McCullum and Taylor.
Andrew Alderson flew to Sri Lanka courtesy of Emirates Airline (www.emirates.com/nz)