Andrew Alderson looks at six deliveries for New Zealand to play carefully in Sri Lanka at the World T20, which starts on Tuesday. New Zealand's two pool matches are on Friday against Bangladesh and Sunday against Pakistan.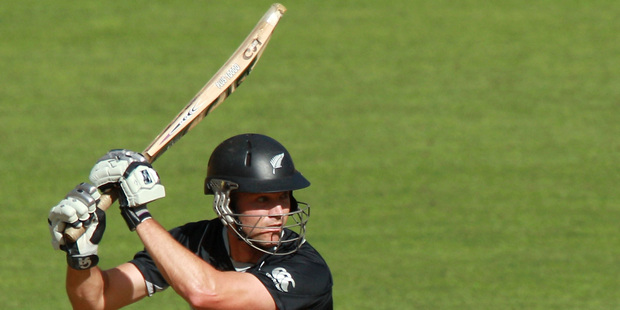 1. A batting powderkeg
When captain Ross Taylor has the sixth highest strike rate of your recognised batsmen in Twenty20 cricket, you are surely part of a batting line-up which is ready to explode into runs. Taylor scores at 117 runs per 100 balls faced. Compare that to Jacob Oram (143), Brendon McCullum (132), Kane Williamson (127), Martin Guptill (125) and James Franklin (118). Now they just have to push the singles, build the partnerships and avoid the temptation to panic and wog everything through mid-wicket.
2. Use a Sri Lanka connoisseur
Jacob Oram dominated the inaugural Sri Lankan Premier League last month. He helped take his side Uva Next to the title. Oram had the best average (11 wickets at 8.00 runs apiece) and economy rate (3.82 runs per over) of any bowler in the eight-team competition. A highlight came against Wayamba United in Pallekele - the venue for all New Zealand's pool and super 8 games. Oram took three wickets for six runs off four overs and whacked 26 off 19 balls. Shame they lost by 20 runs but it didn't matter in the end.
3. Embrace New Zealand's Pallekele history
New Zealand will call the Muttiah Muralitharan International Cricket Stadium home for the early part of the tournament. That was the 2011 World Cup venue where Ross Taylor obliterated Pakistan on his 27th birthday. Taylor produced a 131-run innings of Clark Kent/Superman proportions off 124 balls. Taylor split his innings into 76 runs from 111 balls and ... 55 from 13. That surreal baker's dozen from Shoaib Akhtar and Abdul Razzaq produced four fours and six sixes. In hindsight, a better superhero analogy might have been Batman. An earlier dropped catch even had the dag on the public address system crank up Stevie Wonder's "happy birthday to ya" chorus.
4. Bangladesh and Pakistan spin
Given the recent test difficulties in India against Pragyan Ojha and Ravi Ashwin, spin remains an area of doubt for New Zealand's batsmen. Their pool opponents are not going to make this any easier. Pakistan can wreak havoc through Shahid Afridi and Saeed Ajmal, while Bangladesh have left-armers Shakib al Hasan and Abdur Razzak. Among numerous spots of good advice in his column on Cricinfo, former Indian opener Aakash Chopra offered this: "On turning pitches, you must be aggressive, for no matter how good your defensive technique, the odd ball will turn and jump unexpectedly to abruptly end your stay ... spinners are at their most dangerous when the batsman refuses to get to the pitch of the ball to smother lateral movement off the surface."
5. Create a Franklin-stein (for opponents)
Is it too much to ask for this to be Franklin's tournament? He has threatened so often with the bat and on occasion with the ball for New Zealand, like his tight death bowling spell to help defeat India last week. However, in what is now an 11-year international career across all formats, the 31-year-old has seldom dominated internationally for a sustained period. At times, injury has been a hindrance but there are signs Franklin has the music in him, especially on the sub-continent. He has been excellent T20 value for the Mumbai Indians over 2011 and 2012 at US$100,000 a season, not to mention Essex (2012), Gloucestershire and Glamorgan.
6. Have a word to Stephen Fleming
Fleming is acknowledged as a guru for observing the nuances of Twenty20 cricket. As coach of the Chennai Super Kings since 2009, they have won the Indian Premier league twice (2010, 2011), been runners-up (2012) and semifinalists (2009). They also won the 2010 Champions League. As advisor to the likes of Brendon McCullum and Tim Southee, Fleming might have a few tactical gems and IPL notes that could be thrown the way of the other New Zealand players and the coaching staff.