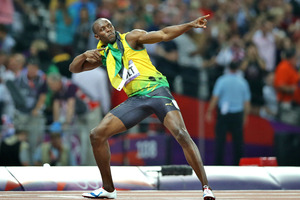 West Indies star Chris Gayle says Olympic sprint great Usain Bolt wouldn't look out of place if signed by Melbourne Stars to play in this summer's Big Bash League.
Stars captain Shane Warne and president Eddie McGuire have generated massive publicity for the MCG-based team by talking up the chances of Bolt linking up with the squad during his Australian visit, either for promotional opportunities or to actually play an on-field role.
Gayle says he's in constant contact with his fellow Jamaican and that the sprint star would be a danger to others rather than himself if he rediscovered the form of his junior cricket days.
"I don't see anything wrong with it. Usain Bolt played the game before track and field," Gayle told reporters on Wednesday in a media session to promote the World Twenty20 in Sri Lanka.
"He wouldn't embarrass himself. I'm sure he wouldn't put himself in that position.
"In a charity game he played against me, he almost knocked my head off with a good, competitive bouncer.
"So it's nothing to take lightly. Once he gives himself that actual chance to train and get back in the groove again then he'll actually put on a show.
"He can handle himself."
Gayle said he was really proud to see Bolt defend his 100-metre and 200-metre titles at the London Olympics.
"It does a lot for the country, for the whole Caribbean," Gayle said.
"We communicate on a daily basis."
- AAP