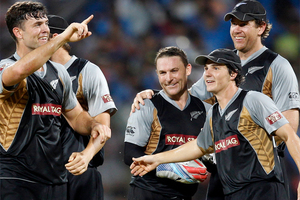 The New Zealand cricket side are looking to win their first World Cup in any form of the game. APNZ's Daniel Richardson looks at five reasons why they could make a splash at the bash and dash Twenty20 event when it starts in Sri Lanka next week.
1. Ability to find the blockhole
Tim Southee and Kyle Mills are two seamers who have proven they can find the toes of opposition batsmen, which makes them tough to get away. Who could forget Southee's impressive performance in that super over against Australia in Christchurch in February, 2010, when he limited the Aussies to six runs in the eliminator over and New Zealand cruised to victory? It was a world-class display of death bowling. More of the same next week, Tim. Mills has also been around the block and still has a bit to offer in limited overs cricket.
2. Spinning in
With Ronnie Hira, Daniel Vettori, Nathan McCullum and Rob Nicol, New Zealand have a good collection of spin bowlers. Vettori's record is well known - 100 T20 wickets from 95 games across all the teams he has represented - while McCullum is the sixth-best bowler in T20 internationals according to the ICC. The older McCullum has also snagged an impressive 36 wickets from 34 T20 internationals at 16.58. Hira provides plenty of energy with the ball and Nicol can be handy given he also provides top-order batting.
3. Brendon McCullum
It seems like a long time since McCullum last played a meaningful, match-winning innings for New Zealand. He seems due to do it again and what time better than a World Cup in the format where he has a decent international record? The right-hander has scored 1352 runs in T20 internationals - the most of any player - so he has the talent. He has become a target for talkback callers who have questioned his output for New Zealand given his production while playing for lucrative T20 contracts. The 30-year-old could silence some doubters this month.
4. Veteran experience
Vettori, Mills, Jacob Oram, Ross Taylor, James Franklin and the McCullum brothers have played in numerous T20 competitions around the globe from Sri Lanka to Australia. Franklin has spent the past few months in England with Essex as well as a stint in the Indian Premier League, while Oram and Mills both played in the Sri Lankan T20 league recently. It's also the last time this group of players are likely to come together for a World Cup so they will want to go out on a high.
5. The format
T20 is unpredictable. It takes only one or two players to fire and a team can obliterate an opposition. To give an idea of how crazy it can be, Australia are ranked ninth in the world, but were recently 10th - below Ireland. New Zealand have the individuals to swing a game and they need just a couple to come to the fore at key times so they can pass the semifinal barrier that is seemingly impossible for them to overcome in the 50-over World Cups format.
- APNZ